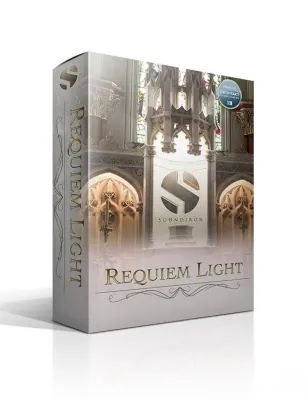 Requiem Light is a professional symphonic choir library specially designed for cinematography and trailer music, filled with ready-to-play sound mixing in excellent quality. Whether you use the library in your studio or on the go, it has a rich, dynamic cathedral choir sound that's also perfect for soaring fortissimo and melodic melodies.
This library includes three legato vowels, many classic sustain vowels and staccatos, one-root marcato words, long polysyllabic Latin roots and fast, aggressive Latin staccatos, as well as a large selection of classic and unique creative dynamic choral effects. An excellent collection of emotional solo sopranos and tenor polysustains, as well as a set of sonic atmospheric pads, monotonous singing and choral atmospheres.
The library has been redesigned into an intuitive and flexible graphical user interface for easy parameter formatting, real-time articulation alignment and switching, changing legato, custom section mixing, and fully integrated syllabic and sequencing phrase sections. We've also included our modular FX rack, including 119 of our favorite custom reverb spaces. With a clean and responsive interface, pristine acoustic devotion, and great vocal performance, Requiem Light is your new take on classic and cinematic choir arrangements.
•4,243 Samples
•4.72 GB installed (6.4 GB wav source)
•14 nki Kontakt instrument presets
•24 bit / 44.1kHz lossless NCW format samples
•Works with the free Kontakt Player
•Includes bonus choral atmospheres, soundscapes, drones and evolving sound designed pads, hand-crafted from the source.