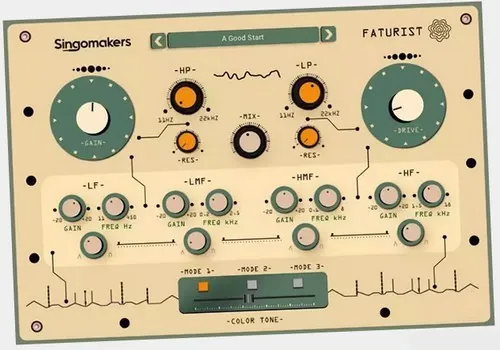 An excellent saturation and distortion plugin to take your sound to the next level! Faturist combines the best of futuristic technology and bold, juicy tones to help you create sounds that are both cutting-edge and irresistibly catchy.
"Faturist" lets you create amazing creative distortion effects for basses, synths, amplify beats and more!
High-end filters and a 4-band Pre-Distortion EQ for total character control, 3 unique types of distortion, and tons of built-in presets!
With Faturist you can add a whole new dimension to your music. Whether you're a producer, DJ, or musician, this powerful plugin will help you create sounds that are bigger, bolder, and more interesting than ever before. With intuitive controls and advanced processing algorithms, Faturist is the perfect tool for adding depth, richness and character to your tracks.
It's great that it works differently with different types of sounds, and with automation on HP and LP filters, it works magic.
So, if you're ready to take your music to the next level, then it's time to open up your DAW and get familiar with Faturist. With a unique combination of futuristic and bold, this plugin is sure to become an essential part of your music production toolkit.