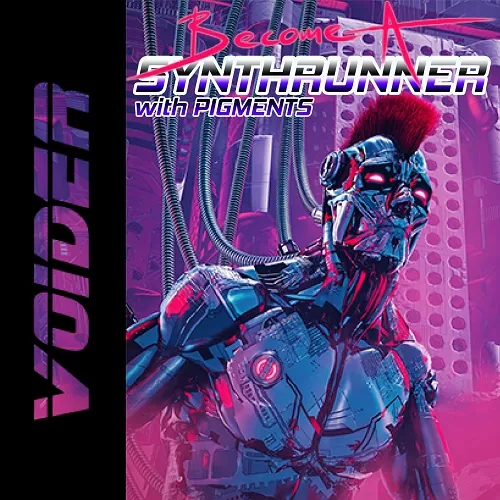 Hey Runners! I am Voider, a professional sound designer from Germany who has created a few commercial bestseller soundsets, themed around my futuristic style. This course will take you on a journey through the very core of a synthesizer, you'll learn about the most important parameters, the modules, the effects, and how it all works together. You will learn the fundamental concepts that'll give you the power to make your imagination come alive and to create your own patches or adjust presets to your taste, to give them your own unique flavour.
Synthesizers are beautiful instruments, in fact the most futuristic and modern instruments we have, and they offer so much freedom and possibilites unlike anything else, if you understand how to utilize them.
And the best thing is, that all the plugins out there that we love to buy and incorporate into our musical compositions are based on the very similiar concept of synthesizers. This means that once you've mastered synthesizers, you'll rarely look into the manual of new plugins because everything makes naturally sense to you.
This course is specifically designed for beginners up to intermediate, while I will explain everything from scratch,
you'll as well learn some advanced techniques and a lot of examples for more advanced sounddesign.
Enroll now, grab a nice drink and load up your synthesizer – we've got sounds to create!
Teacher
Voider, From the future
Voider came from the future to gift this timeline with music that draws the feeling of his far dystopian homeworld. Mega-corporate towers conquered the skies and neon lights reflect all over the rainy streets, occupied by AI holograms and advertisement. Technology has become both: a curse and a blessing, depending on where you live and what you can afford. Hidden deep inside the cities exists a whole parallel world, ruled by black markets, gangs and freelance runners who do any job if you pay them with enough credits. Are you up for a run, chummer?
Content
1. Overview Video (3:22)
2. Chapter 1 – Welcome Video (6:57)
3. Chapter 1 – Creating a Pad patch (37:42)
4. Chapter 1 – Creating a Lead patch (43:50)
5. Chapter 1 – Creating a Lead patch 1.2 (3:18)
6. Chapter 1 – Creating a Plucked patch (31:06)
7. Chapter 1 – Creating a Bass patch (22:22)
8. Chapter 2 – Playmodes: Mono, Poly, Legato, Glide (18:53)
9. Chapter 2 – Envelopes (11:39)
10. Chapter 2 – LFOs (21:40)
11. Chapter 2 – Functions (14:59)
12. Chapter 2 – Randomizers (20:55)
13. Chapter 2 – Noise (12:17)
14. Chapter 2 – Modwheel, Velocity, Aftertouch (20:46)
15. Chapter 3 – Reverb (18:18)
16. Chapter 3 – Delay (9:53)
17. Chapter 3 – Distortion (13:35)
18. Chapter 3 – Chorus, Flanger, Phaser (16:27)
19. Chapter 3 – Equalizer (23:52)
20. Chapter 3 – Compressor (25:28)
21. Chapter 3 – When it all comes together: Organizing the plugin chain (28:09)
22. Chapter 4 – Sequencers & Arpeggiators (34:52)
23. Chapter 4 – FM Synthesis & Wavetables (26:28)
24. Chapter 4 – What to consider when creating patches (11:54)
25. Chapter 4 – Afterword, What now (9:22)