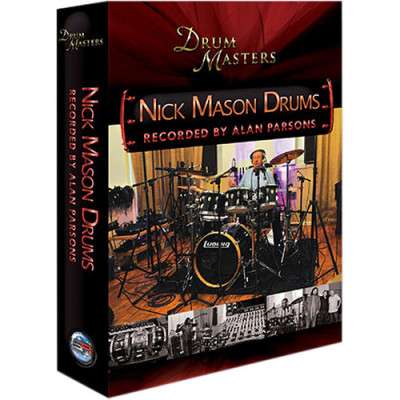 Library for BFD 3.4 drum module
In the BFD2 version of Nick Mason Drums you get a digital recreation of Nick Mason's Ludwig® kit that was used on albums such as The Wall and more. You get a deluxe drum kit that can be both live and deadened sounding depending on the variety of individual mic channels you choose in the mix. If you wanted to go for more of an upfront "Dark Side" style you could turn down the room mics and bring up the directs. If you wanted a larger rock drum sound you can turn up the rooms and apply compression and other effects. From a warm snare to deep kick and toms with cymbals that sizzle, this kit is a must-have in anyone's collection. It's suitable for many styles of music beyond the source context it is known by millions for.
The total size of the high resolution multichannel Nick Mason Drums BFD Kit is close to 5 gigabytes. It includes samples of Nick Mason's custom Ludwig® "Black Kit" with a kick, 5 toms, hi hat, ride, 3 crashes and a choice of 4 different snare drums.
The drum kit was recorded by Alan Parsons through an EMI TG12345 console, the same mixing desk model used to record "Dark Side of the Moon" in 1973. Using the same microphones and micing techniques, Parsons and Mason were able to revisit the past and recreate a session they're famous for in rock history.
This is an updated library from inMusic Brands. The installer is original, with the exception of changing the serial number in one of the files to bypass the library activation later
Install the library
Run BFD3, go to the tab Tools – Set up content locations
Press the button Search Folder and specify the folder with the installed library Sonic Reality – Nick Mason