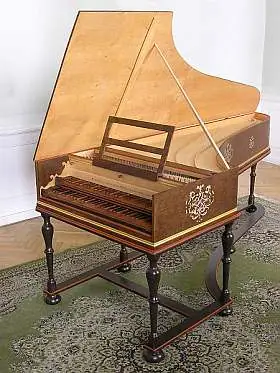 Sample library for the Hauptwerk organ emulator.
Copy of a two-manual harpsichord by the German master Michael Mitke (c. 1656/1671 – 1719), created in the period from 1703 to 1713, made in 2005.
It is known that I.S. Bach was familiar with Mitke's instruments. In 1719, on his recommendation, the master delivered a harpsichord to the court in Köthen, which was probably the very instrument to demonstrate which Bach composed his Fifth Brandenburg Concerto (BWV 1050).
This distribution contains two ODFs (original and extended).
Copy the contents of the OrganDefinitions and OrganInstallationPackages folders to the Hauptwerk\HauptwerkSampleSetsAndComponents folder
or select this folder to download the distribution.