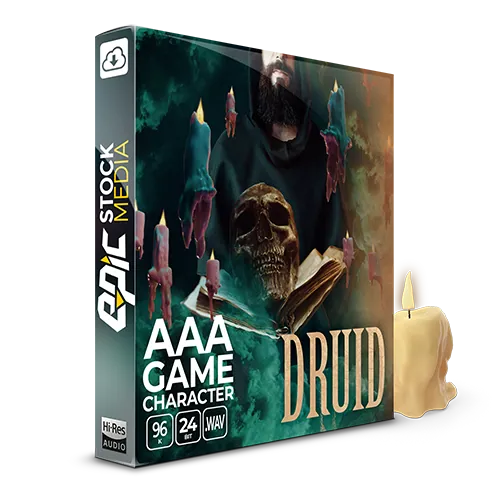 "AAA Game Character Druid" is a stylish and elegant pack of human voice sound samples created for fantasy MMORPG games and trailers.
The AAA Game Character Druid voiceover sound library provides you with over 300+ immersive, ready-to-play sound files with voice-overs, vocalizations, battle cries, custom character-specific dialogue lines, standard NPC dialogue lines, and everything you need to create breathtaking cinematic scenes , characters and outstanding sound experience of the gameplay.
The Druid's voice profile is deep, warm, with a pronounced vocal performance. It's perfect for healers, nature shamans, medicine men, in-game NPCs, or any main playable characters with natural elemental aesthetics.
All sound effects are labeled according to the UCS standard and are organized into categories to make it very easy to navigate to the sounds you want. With 308 voiced audio files and 269 custom dialogue lines such as "Nature will prevail", "Guardian of the Earth" and "You will be ruled by the Earth", this set contains a lot of options to help your playable characters come to life.
AAA Game Character Druids voiceover sound effects contains not only high-quality voice recordings, but also thoughtful, cohesive scripted dialogue and vocalizations to help you create fast-paced sci-fi stories, game trailers, in-game characters, dramatic moments, and more.
Many will appreciate it.