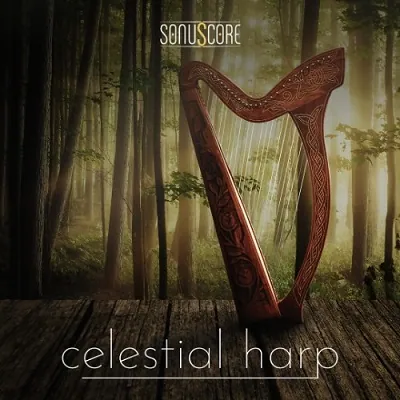 Introducing SONUSCORE's CELESTIAL HARP
Where words fail, music finds its power. The magical fairy-tale overflows of our Celtic harp take the listener to the magical heavenly worlds.
FULL VERSION of Native Instrument's KONTAKT 6.7.1 or higher is required!
Additional Information
A Celtic harp with a divinely inspired sound, CELESTIAL HARP has a unique tone that is warm and soft in its plucks, but lush and enveloping with its full strums. It is perfect to transport your listeners to fantasy worlds and ancient settings, especially when paired with the particle power of our Glow slider, which transmutes the sound into an incredible, soothing, and airy pad. Control the particle effect further by adjusting speed and dynamic range.
Recorded with 5 round robins, it also includes the flageolet technique to create a Harmonic layer. The Natural and Harmonic layers can be balanced to your preference, adjusting between a natural pluck and one with more shimmer. The 10 presets included are crafted to take full advantage of both the natural harp tones and the full ethereal pad effect of the Glow slider.
The Celtic harp is much smaller and more compact than a classical harp like HA•PI. Because of its size, it's more commonly used in folk and traditional music, as well as in taverns and at Elven festivities.
– Adjust the Glow slider to transform a few notes into hypnotic atmospheres
– 10 presets crafted for natural harp sounds and ethereal plains
– Complete control over every aspect of this beautifully sampled Celtic harp