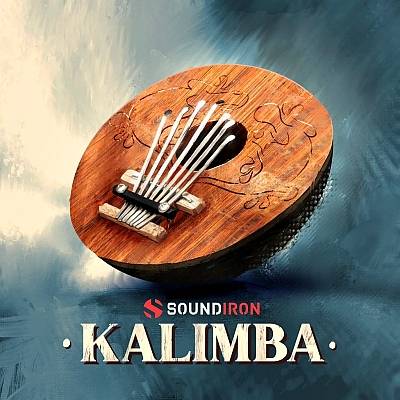 Kalimba is a modernized version of the ancient African mbira, also often referred to as the thumb piano. It has a simple, melodic percussion-string sound with a tonal body reminiscent of a marimba. It is often used in combination with the piano and other percussion instruments to add a sharper attack and playfulness to the sound. Our instruments were made of wood and coconut shell, with hammered steel prongs suspended over their soundholes. The notes span about one and a half octaves for the smaller of our two instruments, and more than two octaves for the larger kalimba.
We recorded kalimbas in three different environments: Close and Dry in our studio; at medium distance in a small chamber; and in a large, long linear hall, both at close (1 meter) and at far (15 meters) microphone distance. We call our long hall "The Bunker" because that's exactly what it really is – deep underground, an artillery bunker from the First World War. This is one of our favorite secret places and has been used for parts of the Rust 2 library and some other tools in our collection. The dry recording was made with a stereo pair of large diaphragm condensers 2 inches apart in a very dry location. You will hear a small crack and creak of wood. We think these elements help give the instruments a more natural sound and feel.
The Kontakt interface includes a set of automation-ready sound shaping controls for complete creative flexibility. You have control over build-up, attack, release, offset, vibrato, filter, pitch (coarse and fine), articulation switching, crossfading, layering and more. We've also included 20 unique sound effect presets to give you plenty of creative options.
This library comes with an adaptable LFO system with selectable LFO shape, modulation target, speed, intensity, tempo sync, and rise time. You can also apply your choice of 12 low pass, high pass and FX filters with assignable modulation targets such as velocity, mod wheel, expression, aftertouch, key position and step sequencer table control. Our customizable arpeggiator offers a velocity table and controls for direction, timing, swing, randomization and arpeggio duration. We've included a key and scale lock system to restrict your notes to specific scales and keys to make melodic composition or live performance easier.
The interface is complemented by our modular FX rack panel with 18 different DSP effect modules that you can assign to any of the 10 available slots in any order. You'll find a classic phaser, flanger, delay, distortion, amp and cabinet simulators, compressors, EQ, rotator and more. The reverb effect includes our favorite convolution impulses, including 99 different rooms, halls, chambers and outdoor environments, plus 40 more customizable FX impulses to radically transform the sound and open up whole new worlds of musical possibilities. To start, we have added a great bank of factory presets for the FX chain!
New in version
For Kalimba 3.0, we've remastered the samples, inserted them into our efficient four-level modular template, and created completely new ambient pads and soundscapes from raw source content. We've also developed 20 new custom effect presets that will instantly inspire you to create a score, soundtrack or music composition for your next movie/video game.
Characteristics
One master NKI instrument bank in open Kontakt format
Kalimba plucks and strums in dry, chamber, and bunker environments
86 Ambience patches created from the source content
24 bit / 48 kHz uncompressed PCM wav samples
20 Custom Sound-Designed FX and Ambient presets
1,131 Stereo WAV files
2.25 GB installed
Flexible and intuitive multi-layer user interface controls, with LFO, filter, glide, and arpeggiator
Full FX rack with convolution reverb with custom rooms, halls, chambers & FX environments