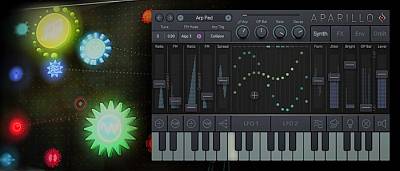 New 16-voice FM synthesizer with arpeggiator, filtering and modulation sections and a large set of presets.
Developers from Sugar Bytes introduced the Aparillo 16-voice FM synthesizer, which they themselves call the "texture synthesizer". The plugin offers a wide range of synthesis, sound waveforming, filtering, modulation and work with sound effects.
The plugin offers two FM operators and a special XY pad that allows you to control all the parameters of the sound engine. The effects section of the synthesizer is represented by a resonator, delay and reverb. In addition to other features, Sugar Bytes Aparillo is equipped with an arpeggiator and rich modulation, envelope and LFO settings.
FM synthesizer with 16 voices;
2 interconnected LFOs;
Modulation, changing the shape of the sound wave, rich filtering capabilities;
XY-pad, which allows you to control all aspects of the sound engine of the synthesizer;
500 presets;
Melody generator.