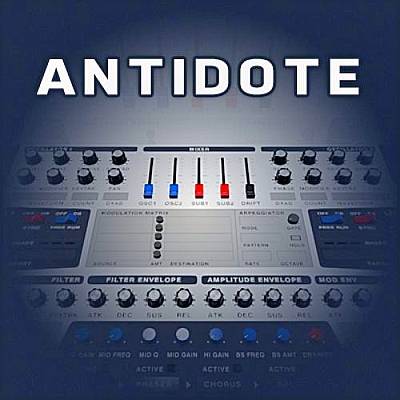 Antidote RE plugin – virtual analog synthesizer for Propellerhead Reason
Synapse Audio has released Antidote RE, a new Rack Extension plug-in for Propellerhead Reason software. According to the developer, Antidote RE is a virtual analog synthesizer that combines high sound quality, flexibility and ease of use. Antidote RE was specially designed for Reason and integrates well into its environment. It can be used as an instrument and / or as a powerful effect block.
Antidote RE comes with two banks of stereo oscillators, each of which emulates up to 50 virtual oscillators per voice. The generators go through a chain of filters that have zero delay. Envelope generators and LFOs further shape the sound, while a powerful modulation matrix capable of modulating virtually any sound parameter adds the depth needed to create complex sounds.
At the output of the synthesizer there is a large chain of effects: Distortion, EQ, Phaser, Chorus, Delay, Reverb, Compressor and a unique bass boost effect that simulates the frequency response of some vintage analog devices.