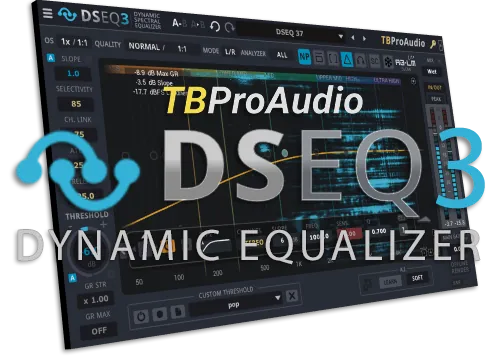 DSEQ – the dynamic processor working in the frequency domain. DSEQ operates entirely in the frequency domain, providing very high frequency selectivity with self-adjusting dynamic equalizers.
DSEQ does its job with maximum transparency, even aggressively. This avoids distortion, phasing and artifacts even with very critical audio material.
And DSEQ offers several high-quality modes of taming even single frequencies.
3.8.3:
– UPDATE: small spectrum view improvements
3.8.2:
– UPDATE: small internal DSP improvments
– UPDATE: undo/redo optimized for spectrum view changes
– UPDATE: allow input values ​​in the format 0.5k => 500
– UPDATE: GUI optimizations
– UPDATE: extended pre-filter range to 10-20kHz
3.8.1:
– FIX: Reason crash after project load if GUI is resized or scaled
3.8.0:
– UPDATE: improved spectrum/GR display
– UPDATE: spectrogram options reduced, better alignment with GR/EQ display
– UPDATE: up to 25% CPU savings
– NEW: variable analyzer speed
– NEW: SC spectrum display
And witch says
Enjoy our true Regged release which clears RSA216 encryption and CRC32 hardcoded value check