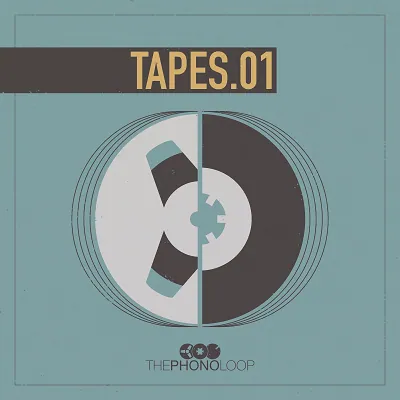 Interface
Minimalistic, as simple as possible, the fewer pages and tabs the better – this is what we focused on when developing the interface. The Tapes interface is divided into two pages, the first page contains only the basic controls – volume, sample start, macros – just so you can start shaping the sound right away without worrying about the details.
Requires full version of Kontakt 6.60 or free Kontakt Player 6.60 (or higher)
Additional Information
In the end it's the first thing that you'll see after loading most of the presets, and it's a nice way to quickly find a sound you're looking for or to shape further.
If you want to dive deeper into the instrument, then there's the second page, divided into three horizontal sections, which contains all the controls:
Upper section is the 'audio section', it has all the source controls, filter and effects. The middle section is the 'modulation section' – here you'll find envelopes, sequencers, LFOs and MIDI controls. Lastly there's the bottom section which by the way is available on both views – it contains the final set of controls to fine-tune the sound (noise, drift, compression, EQ, etc.).
Sound
Tapes.01 focuses on synth sounds and sound synthesis in general. The sound sources were created using various hardware and software synthesizers and effects – from digital FM and physical modeling synths to both analog and digital eurorack modules and synths. Everything was recorded either on tape, cassette, microcassette, or cassette tape loops, so every sound already have a nice texture before you start messing with it (also because we just like to record things to tape).
Most parameters can be modulated by various sources, so while it naturally excels in creating lofi, warm and (often unpredictable) evolving sounds, it's also great for creating modern and cinematic stuff or even better – a mixture of both. It's something that, we think, is quite special – add to that the unpredictable nature of tape loops, and you can spend hours messing with it. Funny enough, even we weren't expecting how versatile it'll end up be.
Furthermore, there's the new swarm mode (beside other modes like polyphonic, mono & legato). It's great for taking small portions of the sounds and smelting them into bigger evolving loops, or rain like droplets, or even turning them into smeared-out wall of sound, similar to how granular synthesis can sound.
Use your own samples
Just drop a single audio file on to either source A or source B.
Type of sound sources
Sounds
Every key has its own sample (73 samples per sound)
Like in a cassette tape loop you can hear where the loop point is, but the loop itself is longer, smoother and more 'stable' than in regular tape loops.
Tape Loops
One sample for the whole key range (1 sample per sound)
These are actual cassette tape loops: warm, lofi and sometimes 'unstable'. This category contains both complex and simple sounds. Due to the nature of tape loops, using these can produce the most unique and beautiful results, especially when you start combining two sound sources together and then modulate everything using built in sequencers.
Synced
Every key has its own sample (73 samples per sound)
Loops were recorded at 80 BPM and are mostly 4 bars long (a few of the sounds are 2 bars long). Sounds from this category loop very smoothly and are synced to the host tempo thanks to Kontakt's time-stretching algorithm.
Specs
Requires full version of Kontakt 6.60 or free Kontakt Player 6.60 (or higher)
Downloads handled by Native Access
11 100 samples
21.2 GB (NCW 24-bit), 26.8 GB uncompressed (WAV 24-bit)
443 sound sources
217 noise samples
492 presets