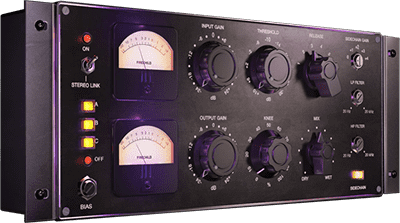 Firechild includes 4 models of the Vari-Mu compressor, ranging from "tube" versions (A / B / C, when turned on, the plug-in delay ceases to be zero) and ending with a "transparent", accurately sampled and emulated from the originals 1950- x years.
Use this for the Master or individual tracks, you will be pleasantly surprised!
Three "tube" A/B/C models are used at the plug's input, before compression, and along with the Bias control (adds "tube" in "transparent" mode), can give the user different "colors" of tube saturation.
This is done by actually sampling real hardware units through multiple stages of amplification and compression using dynamic convolution technology.
Includes 6 "release" modes, each carefully emulated and taken from 4 different devices, each with slightly different electrical components or lamps with different lifespans. A knee adjuster is also provided to further shape the compression characteristics.
The modern features in the plugin go well beyond the original, adding a full sidechain section with Hp/Lp (24dB/octave) filters and sidechain gain, as well as a compressed/dry mixing knob. This gives the user many options for shaping and coloring the sound as they see fit.
ps Compressor "Fyrchal".