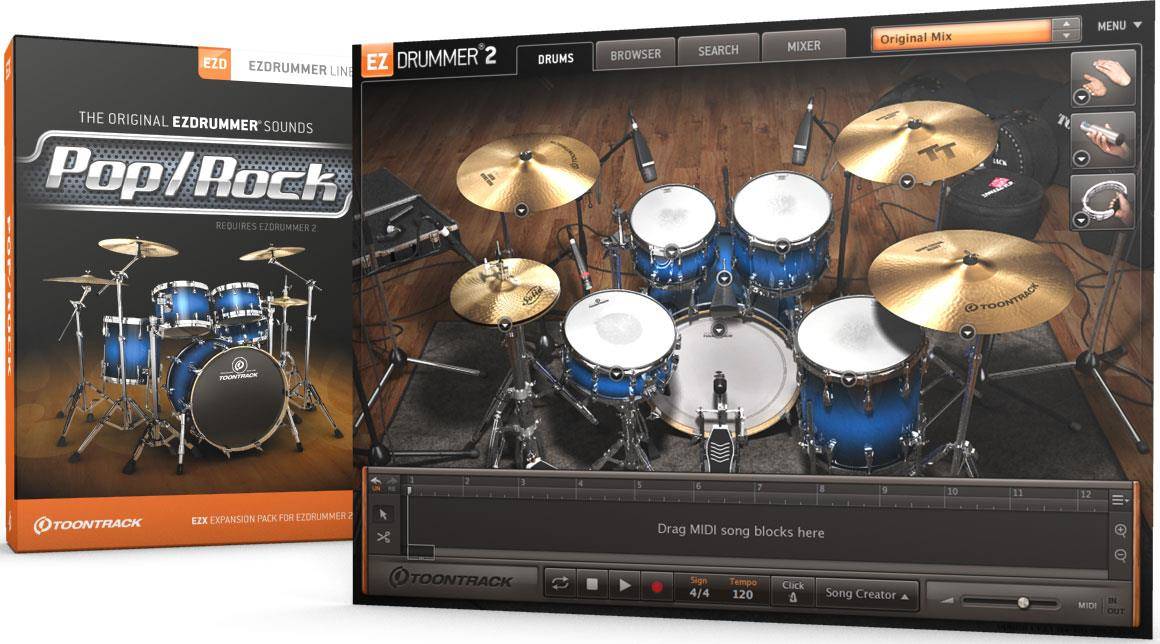 Classic EZdrummer Sound
Optimized for EZdrummer 2 Classic Sounds and MIDI Grooves First Generation EZdrummer. Timeless drums covering the full spectrum of pop and rock music, sampled in perfect sound details in one of the best studios in the world! The package includes a complete sound and MIDI library, which has been a staple in the creative toolkit of the best composers and it has been present daily in countless major label projects, TV shows and commercials since its first release.
Pop/Rock EZX is based on a classic GMS setup that includes multiple sneirs, bass drums and cemples. The sounds were recorded at the legendary Avatar Studios by engineers Neil Dorfsman (Bruce Springsteen, Dire Straits) and Pat Thrall (Beyoncé, Katy Perry) along with the famous session drummer Nir Z (Chris Cornell, Genesis). Avatar Studios is known for having one of the best acoustic environments in the world and has won several industry awards. Since its inception in the 70s, it has employed bands and artists such as Aerosmith, Bon Jovi, Journey, Kings of Leon and The Clash.
Content
Kick drums:
• 18"x22" GMS with felt and plastic beater
• 14"x24" GMS double headed coated
• 14"x24" GMS with felt and plastic beater
Snare drums:
• 4,5"x14" Rogers Wood
• 6,5"x14" Slingerland 70s
• 13" GMS Picollo
Toms:
• 10×12″ GMS
• 14×14″ GMS
• 16×16″ GMS
• 16×18″ GMS
Hats:
• 14″ Sabian HHX Manhattan
• 16″ Zildjian Crash HatsCymbals position 1:
• 19″ Sabian AA Medium Thin
• 16″ Sabian HHX Evolution
• 18″ Sabian Jack DeJonette Encore
• 13″ Sabian Jack DeJonette Encore
Cymbals position 2:
• 18″ Sabian HHX Evolution
• 17″ Sabian HHX Evolution
• 16″ Sabian HHX Evolution Ozone
• 18″ Sabian Jack DeJonette Encore
Rides:
• 21″ Sabian Handhammered Vintage
• 22″ Sabian Handhammered Raw Dry