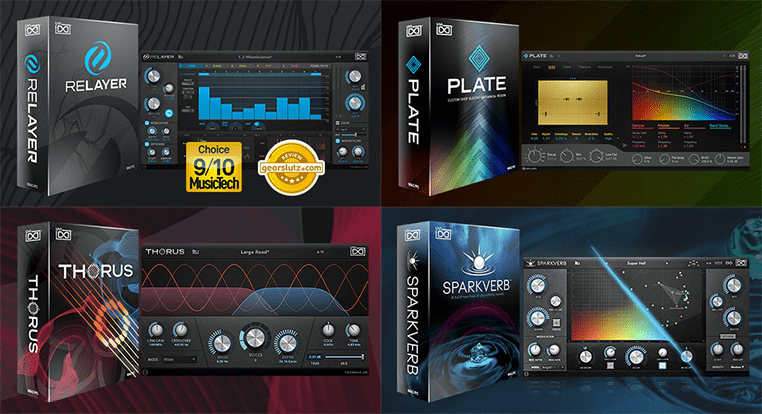 A set of software effects from UVI.
Programs and plug-ins require: Microsoft Visual C++ Redistributable Package
Installation
1. Unpack the archive to any convenient place on your PC, preferably closer to the root of the disk, for example: "D:\NO INSTALL\"
2. Delete the old version of the software (keeping banks, presets and developments) * .
3. Run the file SymLink Installer.cmd.
4. Done! Launch DAW, scan and enjoy!
:::Registration:::
Not required
* If folders from old versions remain – NO INSTALL will not work!
Content
UVI – Relayer 1.5.2
Virtual multi-tap delay Relayer. Designed from the ground up to provide an efficient and inspiring workflow, Relayer lets you create from basic delays to radical rhythmic multi-effects with speed, precision and natural musicality.
– Various multi-delays (up to 32) with advanced controls
– Modulation editors for Time, Gain, Pan and 2 Multi-Effects.
– Visualizer helps you understand important settings at a glance.
– Intuitive interface for fast workflow.
– Input Gate for expressive sound.
– A diffusion section that lets you create reverb-style effects by adding a delay to the tail.
– Also included is a new ducker effect that allows users to create classic pump side-chain effects
UVI – Drum Replacer 1.1.2
UVI Drum Replacer will replace drum sounds with any third-party plugins. You can also work with regular samples.
UVI has released the UVI Drum Replacer plugin for replacing and processing drum sounds. The tool turned out to be quite versatile: the novelty is suitable for eliminating the effect of leakage in drum recordings, replacing individual sounds with samples or plug-in signals, layering and adding sub-bass content.
According to the developers, Drum Replacer analyzes the incoming audio signal and creates a spectral model of the sound. In the future, work takes place with the created model, which the user can change and supplement at his own request.
The plugin also creates a number of so-called sound triggers – it is through them that the signal is processed. Each trigger stores up to eight audio samples or virtual instruments, which, according to the creators, provides sufficient flexibility in the matter of replacing sounds.
In addition to replacing Drum Replacer, you can amplify the signal with sub-bass content, extract certain parts of the signal, use the sidechain to call new sounds. Triggers work in several modes, including special sequencing mode and sound randomization mode.
UVI notes that the process of working with the plugin is simple and clear. The program also has a built-in file browser for selecting files and plug-ins on the computer's hard drive. Inside the browser, users can use the tagging system to make things easier. The browser also scans the plugin directory and offers to use any virtual instrument installed on the computer inside Drum Replacer. External plugins are managed through their own graphical interface.
At the same time, the instrument is equipped with sample editing functions that allow you to adjust the original or your own sound – change the pitch, add attenuation. Among other features, developers note the algorithm for determining the required pitch, built-in metering and the ability to save presets.
UVI – Rotary 1.0.1 Rotary's
virtual simulator of rare speaker rotation devices contains several models of original devices, as well as parameter controls for changing them. Free placement of microphones within the hemisphere is possible. There are separate parameters for low and high frequencies (including frequency range and acceleration and deceleration times). Simulation of open and closed cabinets, as well as preamp overload is supported. Presets included.
UVI – Thorus 1.0.1
Thorus represents the next iteration in modulation effects design, offering a sophisticated yet easy-to-use feature set, exceptionally clear and crisp sound, and an attractive interface.
Chorus effect from UVI. Thorus has evolved in our quest for the perfect choir algorithm. Based on a state-of-the-art chorus model combined with advances in Sparkverb and Falcon development, Thorus can create exceptionally deep modulation with amazingly clear and detailed sound. Combine this with an attractive and easy to use interface and you have a very compelling candidate for your next high quality modulator.
UVI – SparkVerb 1.1.4
With a cutting-edge algorithmic design, Sparkverb breaks the boundaries of modern reverbs by providing users with innovative controls that greatly enhance ease of use, speed and creative freedom, while delivering breathtaking sound quality and amazing performance. Sparkverb is capable of creating everything from natural-sounding spaces to endless, shimmering environments with amazing depth and precision across the spectrum.
Great care has been taken to provide a high degree of customization with the fewest possible controls, resulting in less time spent fussing around and more time to stay productive.
At the heart of the Sparkverb interface is the spectral frequency editor, use it to shape and refine your sound with phenomenal speed and control. Adjust decay globally and across multiple lanes with multipliers and crossovers directly on the same canvas. This is a completely new way to work with reverb.
Open up new spaces and explore the full range of sonic possibilities effortlessly with built-in mutation and randomization controls.
Whether you're working with small ensembles, massive orchestras, sound design or everything in between, Sparkverb offers a unique experience and innovative features to help you work faster, smarter and more creatively than ever before.
UVI – Plate 1.0.4
The Plate virtual reverb simulator has been released.
Explore the deep and rich sound of reverbs like never before with the UVI Plate, an advanced physics-based reverb. Plate uses real-time physics simulation and up to 20,000 modes to achieve new levels of depth and detail far beyond physical units. Get full control over the material and damping properties of the plate and explore the universe of reverb sounds from classic models like the EMT140 and 240 and more