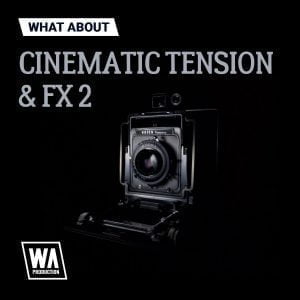 Publisher: W. A. Production
Site: waproduction.com
Format: MIDI, WAV, SERUM
Quality: 24
bit 44.1 kHz mono/stereo
 Description: Cinematic Tension and FX 2 by W.A. Production give you a more dramatic and epic cinematic sound. Cinematic Tension & FX gives you the building blocks for your own layers of the environment. Complete with strings that enhance anxiety, winds with a smooth attack, subtle voices of the choir, sounds of despair, synthesizer growls, distorted and gloomy guitars, demanding snare drum claps and breathtaking percussion elements. Endless effects such as explosions, shocks, alarms, DC oscillations, and more.

Content
132 Bass One-Shots and Loops & Multi-Sample Bass Hits
160 Synth One-Shots and Loops & Multi-Sample Synth Hits
110 Drum One-Shots and Loops
30 FX
20 Serum Presets
16 MIDI Loops