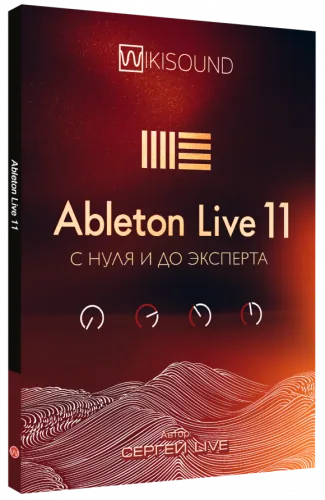 Ableton Live is an audio workstation that allows you to write your own thanks to the arrangement window music. But not only! Thanks to its session window, the program is used by many DJs and musicians for live performances, where the artist does not use a pre-made track, but creates it right on stage live! Thanks to this opportunity, the program has become a favorite for many musicians.
This is because the program provides great opportunities for work, improvisation, live performances – and all this in one box, that is: for full-fledged work there is no need to use third-party programs! All this helped the Ableton Live program to gain worldwide fame and become the standard of modern DJing.
What will the Ableton Live from Zero to Expert course give you?
There are many lessons on the Internet, but they are all: scattered, not systematized, and there is not a single course for the full study of the program, all its subtleties and capabilities. This was before the release of this video course "Ableton Live 11 from zero to expert". The most important feature of this course is that you will know everything about the program. Here we will consider: all the features of the program, we will talk about each knob, button, option. We will not only discuss everything in theory, but also teach you how to apply the features of the program in practice. Information is presented systematically and with a detailed description with examples.
After studying all the possibilities of the program, you will no longer waste your creative inspiration, because you will not suffer in search of the realization of this or that idea.
Work will speed up noticeably. Nothing in our time can be more valuable than such a resource as time!
In your hands will be the most powerful tool not only for writing music, but also for live performances and DJing!
By exploring all the possibilities of the program, you will have a lot of new ideas and you will get a new creative impetus.
It will no longer be necessary to ask anyone questions about how to do something in the program, they can be asked to you.
In your power will be a tool that is used by so many stars of the music industry.
You will know about all the functions of the program!
Content
The course consists of 110 video lessons with a total duration of 9 hours, during which I clearly and clearly explain all the functions of the Ableton Live program. Everything is explained and shown in detail and consistently – you will not have questions about the meaning of any parameter and the need for various functions.
Managing Files and Sets
001 Collections
002 Categories
003 Places
03 Working with the File Browser
04 Analysis File (.asd)
05 Exporting Sound and Video
006 Previewing Files
007 Hot Swapping Mode
008 Decoding and Network Cache
009 File analysis (.asd)
010 Export audio and video
011 MIDI files
012 Live clips
013 Live projects
014 Finding missing files
015 Collecting external files
016 Finding unused files
017 Packing projects into packages
Arrangement window
018 Navigation
019 Transport panel
020 Starting playback of an arrangement using locators
021 Changing the time signature
022 Looping a section of an arrangement
023 Moving and resizing clips
024 Fades and crossfading audio clips
025 Selecting clips and timeslots
026 Using the editing grid
027 Using …time commands
028 Splitting and merging clips
029 Linked track editing
Clip window
030 Clip window
031 Clip tab
032 Sample tab
033 Notes tab
034 Default clip settings and update rate
Audio clips, tempo and warping
035 Tempo
036 Sample time warping
037 Master and slave tempos
038 Warp markers
039 Using warp markers 040
Audio quantization
041 Settings for good quality stretching
Editing MIDI Notes and Velocity
042 Creating an Empty MIDI Clip
043 MIDI Editor
044 Navigating and Navigating the MIDI Editor
045 Harmony, Folding and Looping
046 Editing Notes
047 Quantizing Notes
048 Velocity and Probability Editing
049 Multi-Clip Editing
MPE Editing
50 Viewing MPE Data
051 Editing MPE Data
Converting Sound to MIDI
052 Cutting to a New MIDI Track
053 Converting Sound to MIDI
Using Grooves
054 Grooves
055 Editing Grooves
056 Groove Pool
Session Window
057 Session Clips
058 Tracks and Scenes
059 Track Status Fields
060 Setting Up the Session Grid
061 Recording a Session into an Arrangement
062 DJing
063 Improvising
Launching Clips
064 The Launch Section
065 Next Step
Routing and I/O
066 Audio In
067 Monitoring
068 Audio Out
069 Resampling 070
Internal Routing 071
MIDI Routing
072 MIDI Playback from Computer Keyboard
073 Connecting External Synthesizers
Mixing
074 Live Mixer
075 Audio and MIDI Tracks
076 Track Group
077 Return Tracks and Master Track
078 Using the Live crossfader
079 Soloing and previewing
080 Track delays
Recording new clips
081 Recording preparations
082 Recording in arrangement
083 Recording in session slots
084 Recording with MIDI overdub
085 MIDI step recording
086 Metronome settings and count-in recording
087 Recording quantized MIDI notes
088 Setting the file type and where samples are recorded
089 MIDI capture
Compiling
090 Take tracks inserting and managing them
091 Creating compilations
Working with instruments and effects
092 Using Live devices
093 Device presets Live
094 Default Presets
095 Using Plugins
096 Compensating for Device Lag
Automation and Editing Envelopes
097 Writing Automation to Arrangement and Session Views
098 Deleting Paramount Automation
099 Drawing and Editing Automation
100 Locking Envelopes and Menu Commands
Clip Envelopes
101 Audio Clip Envelopes
102 Clip Mixer and Device Envelopes
103 Clip MIDI Controller Envelopes
104 Unlinking Clip Envelopes from Clips
Working with Video
105 Working with Video
MIDI and Keyboard Remote Control
106 How to Bind MIDI and Keys
107 Mode 108 Built
-in support for external controllers
Using a second monitor (2x window mode)
109 Using a second monitor (2x window mode)
Freezing, saving computer resources
110 Freezing, saving computer resources
As you can see, the list turned out to be quite impressive, and the time is different from most courses. I did not want to make the course shorter or somehow shorten it, the quality and clarity of the material provided was in the first place. So that you really learn about all the features of the program, and most importantly, to show it as clearly as possible!