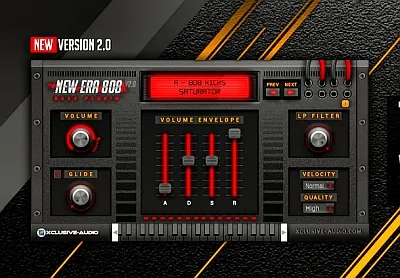 THE ULTIMATE PLUGIN WITH 808 SOUNDS!
Have you ever listened to your favorite producer's beat and been jealous of the sound of his 808? You are probably saying to yourself "where do they get their 808s from?" or "how do they make their 808 sound like that?". The new Era 808 Bass plug-in easily solves this problem and offers much more than just 808 kick drums. You'll have access to some of the toughest sounds on the market .
Analog Fat – We've spent months perfecting these sounds. We used both vintage and modern processing for a variety of hues and character. Analog distortion, saturation, tape, clean fat sounds – it's all here!
Ease of use– These sounds are ready to go! Simply load one of the presets and play along with the key of your composition. No need to guess which key the sample is on, all 808s and basses are set up and ready to play on your midi keyboard. Direct and easy to use, with simple controls: Volume, ADSR, Glide, LP Filter. We've also included a helpful PDF guide.
The best! – We took the time to make these 808s sound incredible! We know there are tons of 808 sounds on the market, but they are not like ours! We are confident that this will be your new impetus for your products.
The new Era 808 Bass Plugin is designed for Trap, Hip-Hop and EDM producers, as well as those looking for professionally designed sounds for their tracks. The sounds are so versatile that they can be used in a wide variety of genres.