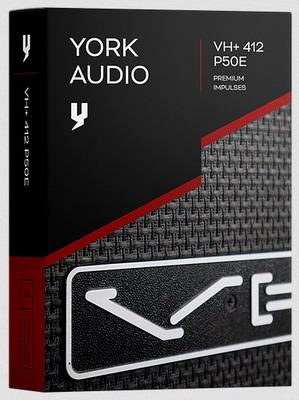 The York Audio VH+ 412 P50E cabinet is based on the Fatbottom 4×12 VHT cabinet with original Eminence P50E speakers. The tone is mid-range and aggressive, with thick lows, throaty mids, and trebles with a pleasant edge and airiness that give your sound presence and breadth in the mix. While this cabinet is typically used for heavier music, its front midrange lends woodiness to mid-amp tones and sounds surprisingly good with clean amps.
All Cab Packs come in .WAV format in 24-bit 96k, 48k, and 44.1k files.
All IRs are 500ms for maximum resolution. Hardware units that require shorter files will automatically truncate 500ms files to the unit's preferred length upon import.
Natural Phase and Minimum Phase versions are provided.
Fractal Audio™, Line 6™ Helix, Atomic™ Amplifire, and most IR loading amp modelers utilize 48k files.
Kemper™ units ulitize 44.1k files.
Strymon™ Iridium and BOSS™ units utilizes 96k files.