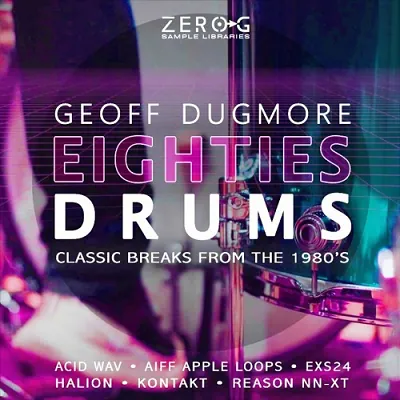 Classic 1980s breaks by one of the most successful session drummers of all time!
EIGHTIES DRUMS is a massive sample library from drumming legend Jeff Dugmore. He draws his inspiration from the great drum tracks of the 1980s. Jeff Dagmore is a British professional musician who has played drums and percussion on over 150 hit records, including 44 #1 albums.
Content
Over 13GB of material is arranged in two different ways. Firstly, we have the full kit loops in both dry and FX mixes. Secondly, we have given you all the separate tracks from the recording sessions, so you have complete control over how you want to use the kit. There are separate tracks for kick, snare, toms, and cymbals as well as room mics, Center mic and each of the effects different that are used. Effects used include delays, reverbs, modulation, and compression etc.
The drumkit used is a DW Jazz series set with Sabian cymbals recorded through an API 1608 desk to Pro Tools. The API desk is ideally suited to recording drums because it gives a very punchy and mid-forward sound.
Library Includes:
– 1900 48Khz 24bit Acidized WAV files
Geoff Dugmore
Geoff Dugmore is a British professional musician who has played drums and percussion on over 150 hit records, including 44 no.1 albums. The artists he has worked with include Rod Stewart, Tina Turner, Dido, Debbie Harry, Robbie Williams, Stevie Nicks, Brian May, and many, many more. He has performed in hundreds of concerts around the world with major artists and has taught, lectured, and conducted master classes at music academies and institutes in the United Kingdom, Australia, Japan, and the USA.
In 2001, 2003 and 2005 Geoff was voted 4th Best Studio/Session Drummer in the world (best in Europe) and 5th best in 2002 in a poll conducted by international publication Rhythm magazine. He was voted 3rd most 'Inspirational Drummer of The Year' in the World Drumming Association awards for 2012 and 4th in the 'Outstanding Contribution' award.
One of the most successful drummers on the global session scene, Geoff Dugmore is who you hear on such major hits as Rod Stewart's "Downtown Train" and "I Can't Deny It"', Tina Turner's "I Don't Want to Lose You" and "Foreign Affair" album plus albums by multi-platinum artists Dido, Natalie Imbruglia, Blondie's Debbie Harry, Robbie Williams, and Gabrielle, among others. There are also hits and notables, past and present from the likes of Appleton, Nick Carter of the Backstreet Boys, Steve Winwood, Joan Armatrading, Danny Wilson, Climie Fisher, Killing Joke, the Gypsy Kings, and literally hundreds of others. And that list grows by the day!