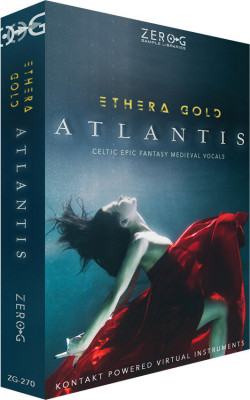 ETHERA Gold Atlantis is an exciting new evolution of the vocal library concept. Ethera Gold Atlantis is a new tool for creating soundtracks, cinematic music, epic music trailers, and any kind of music requiring fantastic solo vocals.
All samples included in this library are brand new and unique to this instrument. This has been made possible through an incredible amount of hard work and research to create the perfect vocal library.
Drawing from the aesthetics of Celtic melodies, epic fantasy music and medieval music, we believe this is simply the best sounding, fully inspiring and most lively vocal library created to date for this genre of music. Atlantis will let you compose with inspiration and great vocals!
Ethera Gold Atlantis is not an add-on or extension for Ethera Gold 2.5, it is a separate, unique standalone product. All samples included in this library are brand new and unique to this Kontakt instrument.
If you already own some or all of the previous Ethera Gold series, then Ethera Gold Atlantis will be a powerful addition to your Ethera Gold collection. If you are new to Ethera, then Ethera Atlantis is an amazing new tool for you to help and enhance your musical creativity. It will also give you access to a possible Cross-Grade Coupon to purchase other Ethera libraries.
What's included in Ethera Gold Atlantis:
– 6 Kontakt multisampled instruments.
– Over 6 GB of 24-bit, 48 kHz samples.
– Brand new Atlantis True Legato – 4 GB of true legato multisampled and chromatic vocals, up to 2 layers of articulations controlled by midi speed. Natural Decay, no looped samples, Natural Vibrato, 'No Vibrato' samples.
– Brand new romantic True Legato. Over 1GB of multi-sampled and chromatic True Legato vocals with classic romantic sound.
– 7 True Legato articulations: Ah, Soft Ah, Ih, Uh, phonemes 1 and 2, Romantic.
– Various legato delays (slow 250ms, medium, fast).
– Long legato transitions and short versions.
– Custom Reverb Convolution Reverb.
– Over 1000 inspiring vocal phrases organized by key – BPM – with legato mode.
– Inspiring vocal phrase builder to play haunting polyphonic melodies with customizable syllables.
– Sustain Instrument with a collection of inspiring vocal textures.