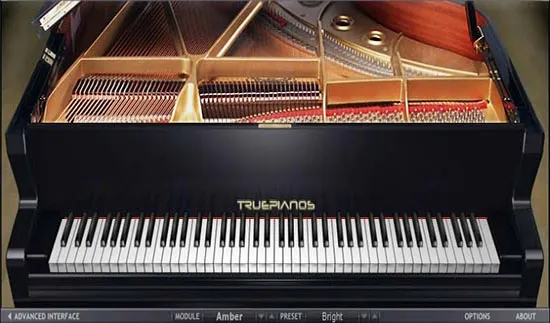 Torrent updated: added version for MAC.
Year/Date of Release: 01.2019
Version:
1.9.8 Developer: 4Front
Developer Site: truepianos
Format: STANDALONE, VSTi, RTAS, AUi
Bit :32bit, 64bit
Tableclock: System
Requirements:
– Windows XP SP2 or newer
– 2.0 GHz Intel Core Duo or multi-core AMD CPU with SSE2 support
– 256 MB of free RAM
– Mac OS X 10.10 or newer
– 2.2 GHz Intel Multi-based Core Mac
Description: TruePianos is a tool designed with the aim of creating the first virtual piano that would allow the user to experience just such a feeling.
This product offers intuitive controls that allow you to painlessly adjust the behavior of the instrument so that it exactly matches the combination of your unique performing technique and the MIDI keyboard you have.
Following our tradition, TruePianos is optimized for real-time execution. Cpu load is low even at 96 kHz, and for extended polyphony, dual-core processors are supported, in which the load is distributed symmetrically. TruePianos does not attempt to meticulously repeat existing pianos. Instead, our instrument uses a combination of the latest technologies – sampling, physical modeling, synthesis – and realizes our idea of a piano that is perfectly suited for playing.