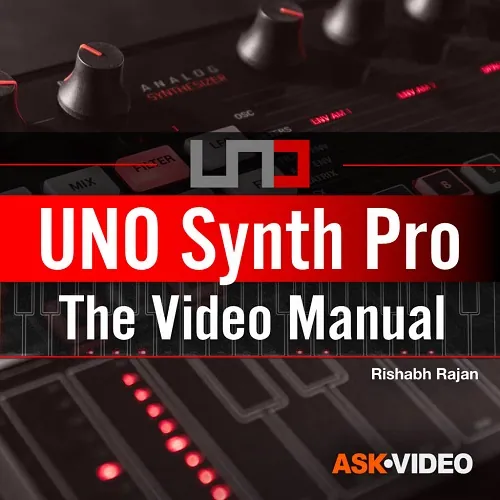 UNO Synth Pro is a unique analog paraphonic from IK Multimedia. Master every feature of this cool and unique instrument in this 22-tutorial course, by trainer and sound designer Rishabh Rajan!
With its dual-filter, 3-oscillator paraphonic design, UNO Synth Pro is a powerful analog instrument for musicians, synthesists, and music producers. Despite its small and portable size, this synth provides HUGE analog sound… All that without breaking the bank. If you already own the UNO Synth Pro, or if you're interested in getting one, this course by Rishabh Rajan is a must view.
Rishabh starts the course with an overview of the hardware, exploring all its various controls and functions. After explaining how to work with the factory presets and how to save your own, you dive deep into synthesis. This is where you discover the sound design possibilities of UNO Synth Pro. Starting with the Oscillator section, Rishabh looks at the heart and soul of the instrument, and reveals how to get wild sounds with hard sync and ring modulation. He continues by looking at the powerful options offered by the dual-filter section, the envelopes, LFOs, and the modulation matrix. He reveals what exactly is a paraphonic sytnthesizer and he explores the voice modes. Continuing with the course, you also learn everything about the digital effects, the arp, the sequencer, song mode and a lot more…
It's time to learn UNO Synth inside Out! Discover the infinite sonic possibilities of UNO Synth Pro with this course by expert trainer Rishabh Rajan!
Content
Section 1: Introduction
1. Introduction (1:05)
S
ection 2: Overview
2. Hardware Overview (3:13)
3. Working With Presets (3:55)
Section 3: Oscillators
4. Oscillator Section (5:11)
5. Oscillator Hard Sync (4:20)
6. Ring Modulation (2:55)
7. Mixer Section and Noise Generator (2:05)
Section 4: Filters
8. Filter Section (6:45)
9. Linking and Spacing (3:56)
10. Key Tracking (3:34)
Section 5: Modulation
11. Filter Envelope (4:38)
12. Amp Envelope (3:27)
13. Modulation Matrix (4:04)
14. LFO Section (6:36)
Section 6: Voice Modes
15. Voice Modes (4:48)
Section 7: Effects
16. Drive (4:04)
17. Modulation (4:08)
18. Delay (3:19)
19. Reverb (3:29)
Section 8: Performance
20. Arpeggiator (3:56)
21. Sequencer (6:05)
22. Song Mode (4:52)