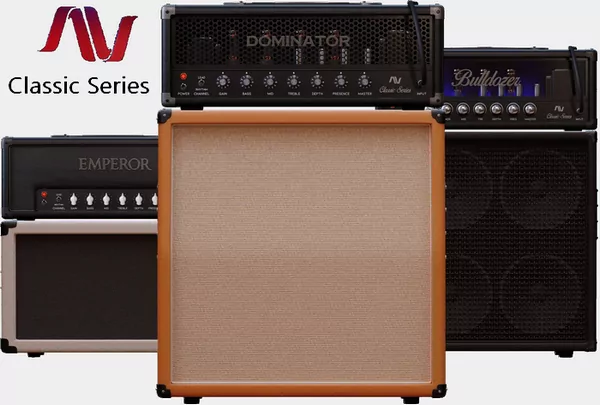 Classic Audio Assault amplifier collection
Based on the original amplifier design!
The Classic Series is a collection of 3 original high gain amp models based on 3 different periods of heavy music.
Designed to achieve the most brutal tones, without forgetting the pristine purity and crunchy rhythms.
Dominator
 !
Modern Tone
Designed with today's mid-tone in mind,
the Dominator delivers articulated pants with precision.
The lead channel takes this to the extreme with an overly focused midrange punch.
Bulldozer
 !
The tone of the early 2000s
Bulldozer is all about the scooped-up mids, punch and attack focused on lows and highs.
Sharp, full of high-class attack and to the point!
Emperor
 !
Emperor 's late 80s tone
is as simple as adding more amplification to the classic British sound of the 80s and 90s.
This is what heavy metal and thrash were built on.
Detailed 3D office
 !
Modeling
• The Classic Series includes extremely detailed cabinet modeling.
• Complete freedom to control two microphones for each booth.
• Each cabinet perfectly complements the main amp.
Dual IR Uploader
 !
If you prefer to use your own IRs, the Classic series includes a dual IR bootloader with the ability to adjust the microphone position of any IR, even a third party one.
Stop boxes
 !
• Gator II: Tame signal noise with this convenient single-knob gate.
• Booster: Change the character of the amp with the low and high knobs, or simply set the gain higher.
• Screamer: Make (virtual) lamps scream with this pedal.
Rack FX
 !
The Classic Series includes 4 effect blocks to help you shape the final part of your tone.
• Graphic Equalizer: Controls the final sound output.
• Chorus: Expand your leads. Give them a taste.
• Delay: Gives clarity depth and a stereo feel.
• Reverb: add dimension to your sound.
Standalone application
 !
Jam with the Classic Series without opening your DAW! Turn on dual tracking emulation for better jamming!
Dual track emulation
 !
Save time when writing demos or ideas, or use it while jamming.
The dual tracking emulation emulates a slightly different approach to one of the channels, giving it a wide distribution that only real dual tracking can give*.
*We recommend using the double tracking emulation only on demos or when jamming, although the emulation sounds realistic in stereo, it breaks down more in mono than true double tracking.