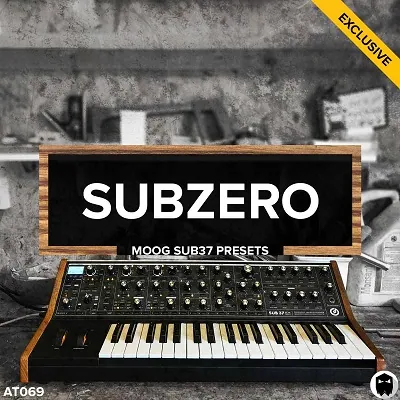 The new standard in the given design.
Subzero inspires maximum creativity and endless possibilities. 107 Moog Sub 37 presets that provide incredible character and color.
Choose Subzero Deluxe and get access to the latest music production toolkit (over 1.7 GB). 107 MIDI files corresponding to each of the 107 Sub 37 presets, plus 107 melodic WAV loops for quick and easy navigation.
---
---
Exploring the vast modulation possibilities
The Moog Sub 37 has a large number of modulation source and destination options.
These out-of-sight parameters allowed our sound designers to dig a little deeper. Creating truly unique and playable patches.
Melodic MIDI
Each preset has an accompanying MIDI loop. Enabling you to visualize the articulation of each sound.
Automation
Multiple synth parameters have been automated and recorded inside the MIDI files. These will help you to discover the full depth and potential of each preset.
Combatibility
Our creative team worked on both the Sub 37 & Subsequent 37. This ensured that the banks will work perfectly on either synthesisers.
Dry & Wet Loops Included
Each of the 107 melodic wav loops have been exclusively processed with Strymon pedals. Blue Sky Reverb & El Capistan Delay.
Both dry & wet versions are included in the standard and deluxe edition. Enabling you to add your own tails and sonic imprint to the loops.
We have also included a reverb & delay pedal settings PDF. This features photos of the exact settings used for each loop.