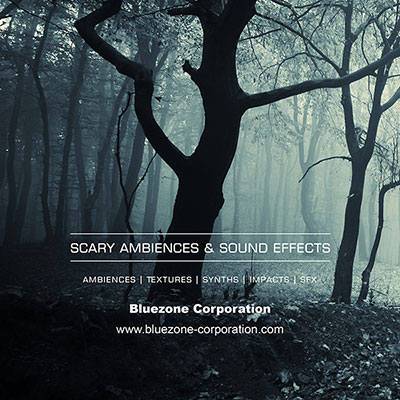 Description :
This sound library includes 202 samples ideal for cinematic and contemporary music, video game backgrounds, ambient and experimental music projects, trailers and much more.
Format: WAV
Resolution: 24 Bit / 44.1 kHz
Channel: Stereo
License: Royalty free
Total samples: 202 WAV
'Scary Ambiences and Sound Effects' produced by Bluezone features over 1.20 GB of dark drones, spooky ambiences, chaotic impacts, screaming sounds, dark soundscapes and more. This sound library features a selection of 202 WAV samples perfect for cinematic and modern music productions, video game backgrounds, Ambient and Experimental musical projects, Trailers and more. Created from hardware synthesizers and field recordings, all sounds are hyper-detailed and can easily be added to your projects. Moreover, the potential of this hair-raising sound libray is outstanding: adding and layering these sound effects and ambiences will allow you to build complex creepy sequences. From disturbing Sci-Fi ambiences to dark basements, you'll find a lot of exciting audio elements: tortured and scraping metal sounds, imposing impacts, mysterious background sounds, designed chimes, unnerving fat synth sounds and more. As usual with all Bluezone Corporation download packs, all material contained within this release is 100% royalty free for you to use in your production.
Ginno Legaspi review – SoundBytes Magazine:
Visualize this: Imagine yourself lost in the depths of woods desperate for help. You scream uncontrollably hoping that someone would hear you, but you only hear your own echoes. You're scared as if the trees were alive and looking at you. This type of scene is often shown in the horror and thriller movies. As a viewer, it puts you in the edge of your seat, especially the spine-tingling soundtrack that goes with it. Bluezone's Scary Ambiences and Sound Effects put you in the driver's seat when creating soundtrack for TV, film and video game music. You'll find plenty of dark drones, spooky ambiences, chaotic impacts, screaming sounds, dark soundscapes, etc. in this 1.20 GB library. There are 200+ WAV files that are actually pretty good and that will enable you to either create music from scratch or augment into your own mixes. Some sounds are just downright creepy and spooky. The complex sound design is mind-blowing and exciting that it will inspire you to work on your musical projects.
Save 25%! This sample pack is included in our collection "BC Bundle 03"