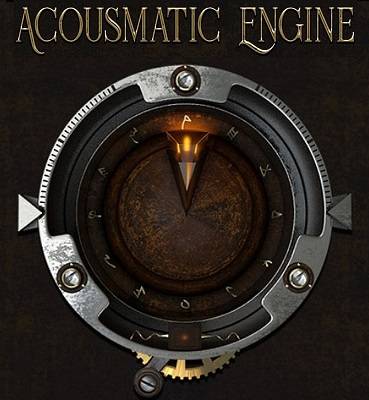 SURREAL AND THEMATIC
Introducing the Acousmatic Engine, a standalone library of concept samples and multidimensional synthesis shaped into imaginative and playable instruments; from the creator of Native Instruments Kinetic Metal and Kinetic Toys.

Kontakt or Kontakt Player version 5.8.1 (R43) or higher
---
---
Probing the realms of Sci-Fi Noir, Lovecraftian Horror and Steampunk sound worlds with 500 surreal and thematic Kontakt Instruments, Acousmatic Engine provides characteristic sound inspiration with instruments ranging from the unique yet traditional to the completely unimagined, possessing unique sonic lusters and advanced sound design … Get ready to explore a deep collection of otherworldly sounds that will enliven film, game and music compositions across genres.
Warp Into Otherworldly Sonic Dimensions
– 3 sound pack themes inspired by Lovecraftian Horror, Sci-fi Noir and Steampunk genres.
– 500 unique instruments; each with 3 editable / warpable variations.
– Expert and Performance Modes for flexible levels of usability.
– Grain and resonance engines for powerful manipulation of sample material.
– Powerful dynamic control and deep levels of creative sound design features to explore and build your own sound worlds.
The Engine
3 stylistic themes (Sci-Fi Noir, Lovecraftian Horror and Steampunk) are divided into 5 instrument types that include all manner of sonified gadgetry, gaslamp dissonance and thematic soundscapes.
Instruments Types:
– Aerophones: Wind instruments and anything that vibrates with air pressure.
– Friction: Resistance of one object / instrument moving over another to produce sound. Bowing, scraping, pad-like sounds, etc.
– Struck: Percussive sounds such as bells, pianos or anything that is struck to produce sound or noise.
– Soundscapes: Sounds that may or may not be tonal and give a sense of environment or mood.
– Machines / Movements: Arpeggiator and sequenced driven patterns or other movements programmed in the Warp Wheel.
System Requirements
– Kontakt or Kontakt Player version 5.8.1 (R43) or higher
– Mac OS X 10.12 or later (Mac OS X 10.11 for Kontakt 5.8.1)
– Windows 7 or later
– At least 4 GB of RAM (6 GB recommended )
– 3 GB of free drive space