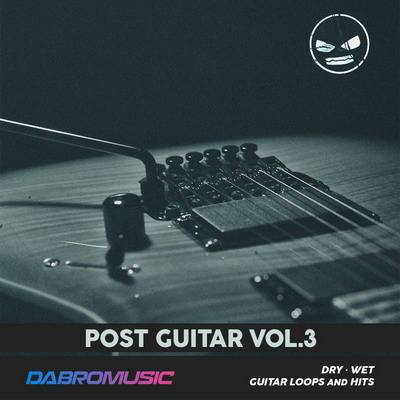 DABROmusic has prepared a new, stunning set for fans of live guitar music. Post Guitar Vol.3 has a lot of warm guitar sounds with a melancholic atmosphere.
You will find real melodies, harmonies and chords with a unique sound and all the nuances of live guitars. You will also receive many additional single chords and strokes to help you create a lively ambience in your tracks.
Post Guitar Vol 3 is a delightful collection of guitar samples from DABROmusic, recorded in their studio using popular electric guitar models and analog effect chains.
Content
SPECS:
100 Guitar Loops Dry
100 Guitar Loops Wet
110 Guitar Hits Dry
110 Guitar Hits wet
Additional Information
Product information DABROmusic has prepared a new, amazing kit for lovers of live guitar music. The Post Guitar Vol.3 has a lot contains warm guitar sounds with a melancholy atmosphere. You will find authentic melodies, harmonies and chords with a unique sound and all nuances of living guitars. You will also get lots of additional single chords and strokes that will help you to create a lively atmosphere in your tracks. Post Guitar Vol 3 is a delightful collection of guitar samples by DABROmusic which was record-ed in their studio by means of the popular model? S electro guitars and analog effects chains. This pack contains in total 200 Dry + Wet guitar loops from 90 to 140 BPM which are ideal for use in Post Rock, Indie, House, Soundtrack, Hip Hop, Trip Hop, Acid Jazz, Downtempo, Ambent and any atmospheric compositions. In detail expect to find 913 MB with 420 individual 24 Bit WAV files. 200 Guitar Loops with 100 dry and 100 wet versions. 220 Guitar Hits with 110 dry and 110 wet versions. SPECS: Zip Contains: 913 MB 24Bit 44.1KHZ 100 Guitar Loops Dry 100 Guitar Loops Wet 110 Guitar Hits Dry 110 Guitar Hits wet