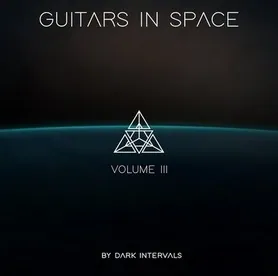 GUITARS IN SPACE VOL. 3 :
This is a Kontakt instrument based on an electric guitar sound source.
During the recording process, we used a 2016 El Diablo Stratocaster,
Custom shop, combined with several external devices and effects.
In this sequel, there is an emphasis on Muted Guitar (neck), as well as various loops and textures.
This is NOT a fully sampled guitar with
many different articulations. It is a tool consisting of several additional elements,
designed for composers looking for "that" specific sound. It is simple,
compact and easy to use, and pairs beautifully with piano and ambient string sounds.
SOUND
 :
This edition primarily focuses on a very natural and responsive sound of a muted guitar sampled in the neck position.
(4 speed layers, 2 round robins).
On top of that, we've added some "ear candies" that can be very inspiring and easy to use.
There are 16 tool files (NKI) and 8 multifiles (NKM).
The first two Nki patches are muted guitars (mono and quasi-stereo).
All other patches are inspirational loops/sequences and textures that are easy to use.
They are DAW synced and recorded at 90 bpm so that tempo will sound more natural.