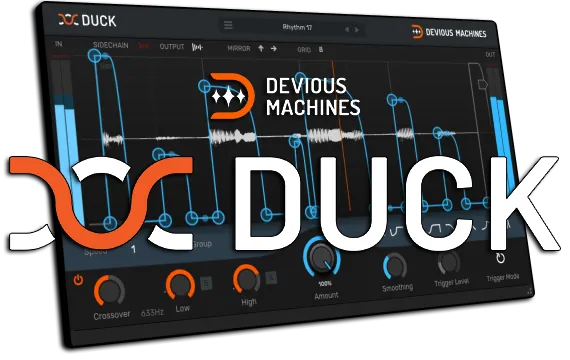 Ducking, or sidechain compression, has become a hallmark effect in modern music. It's the secret behind the pulsating rhythms and smooth vibes found in tracks by renowned artists like Daft Punk, Noisia, and Eric Prydz. Now, with Duck, you can effortlessly infuse your productions with that distinctive pumping quality.
Whether you're crafting pumping house anthems or experimenting with broken beats, Duck is your go-to solution for achieving that sought-after sound in mere seconds.
Key Features:
Instant Sidechain Pumping: As soon as you download the plugin, you can dive into creating captivating sidechain pumping effects that elevate your mixes.

Cleaner and Louder Mixes: Duck enhances the clarity and volume of your tracks, injecting excitement and energy into your music.

Diverse Presets: Choose from 8 preset curves or explore 58 creative and practical Duck patches to spark your creativity.

Custom Curves: Craft your own volume curves and rhythms, saving them for immediate use or future projects.

Precise Control: Deploy Duck for general pumping or apply it to specific frequency ranges with an adjustable crossover.

Flexible Triggering: Trigger Duck using audio from a sidechain input or via MIDI notes, simplifying the process for hip-hop and bass music producers.

Smoothing Control: Experience seamless de-clicking with the ultra-precise pre-smoothing algorithm in LFO mode.

Versatile Application: Apply Duck to individual tracks, groups, or the master bus to achieve a variety of dynamic pumping effects.

Efficient CPU Usage: Enjoy low CPU usage, allowing you to run Duck on a multitude of tracks without straining your system.
Devious Machines' Duck is your shortcut to mastering the art of sidechain compression. Download it now and witness your music come alive with pulsating rhythms and unparalleled clarity. Elevate your sound, create excitement, and infuse energy into your mixes with Duck.
TCD Note: Devious.Machines.Duck.v1.3.9-TeamCubeadooby
Compatible Formats:
x64: VST3, VST2, .aaxplugin
x86: Requires JBridge files for operation
Installation Instructions: Just install the plugin. If you're transitioning from a previous x86 version, ensure you uninstall it before installing this version. That's all you need to get started.