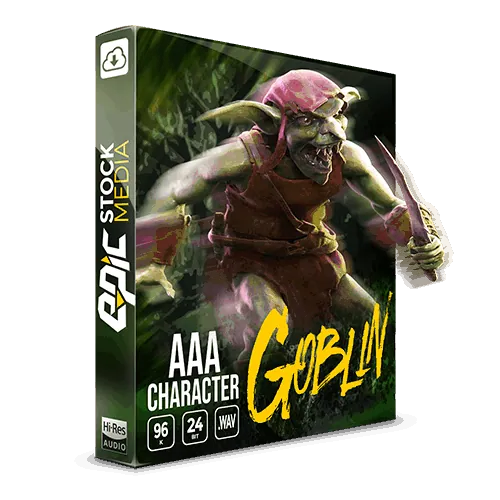 'AAA Game Character Goblin' by Epic Stock Media is a voiceover sound effects library that provides you with more than 300 immersive, game-ready voice sound files, vocalizations, battle cries, custom dialogues, emotes, and everything needed to create compelling, interactive cinematic scenes, and outstanding game audio experiences.
Face off with a mischievous humanoid creature in your next audio production with 'AAA Game Character Goblin', a collection of voice samples styled for fantasy games, MMORPG's, and move trailers. This voice-over sound library features an evil, male, humanoid, antagonist character ready to cause trouble for humankind.
The Goblin's voice texture is raspy, dark, crunchy and has a small bodied range. He is perfect for a non-player character, orc, troll, gnome, or enemy in your next game. The Goblin's voice is ready to go out of the box but is clean enough for further processing.
All of the recordings are delivered in 96khz / 24bit WAV file format, giving you the best quality for heavy sound editing, pitching shifting and FX processing while keeping a top notch level of clarity and precision. Not only that, AAA Game Character Goblin also provides multiple versions of the entire library in 44.1k / 16Bit WAV and Game Ready MP3 file format so you never need to convert files. Simply choose the format that best suits your project and design immersive gameplay & cinematic scenes.
'AAA Game Character Goblin' voiceover sound effects library is not only packed with high-quality voice recordings but includes, cohesive scripted dialogue and vocalizations to help you build dynamic fantasy stories, game trailers, in-game characters, dramatic moments and so much more.
Product details:
•313 Fantasy Character Voice-Over Audio Files
•228.7 MB Of Voice Samples
•24bit / 96k WAV File Format
•Includes 44.1k / 16bit
•Includes Soundminer Metadata
•AAA Game Character Voice-Over Sound Effects Library
•13 Battle Cries & Saying Like Hold The Line, Victory, War Cry
•9 Breathing Sounds – Dying, Exhale, Sign, Panting, Soft
•7 Coughing Files – Hearty, Painful, Wheezy
•8 Sad Crying Sounds – Hurt, Soft, Quick, Sadness
•135 Immersive Dialogue Lines Like Blood Will Flow, Allow Me To End You
•10 Fight Vocals – Growl, Grunt, Jab, Throw, Thrust & More
•9 Jumping Vocalizations – Hard Landing, Big, Quick Jump
•8 Laughing Sounds – Crazy, Evil, Hearty, Funny, Sinister
•7 Pain Vocals – Dying, Gut Shot, Wound, Ouch
•107 Stock Dialogue Lines Like – Copy That, Follow Me, Attack
•100% Royalty-Free