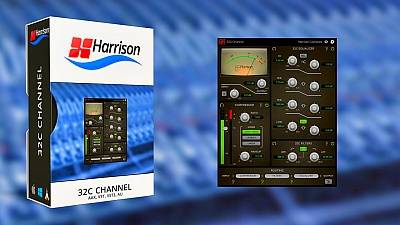 Harrison Harrison
32C Channel 32 Series Equalizer, Filters and Compressor Plugin aims to transfer authentic component sound from the console to your DAW program. The plugin consists of three components: equalizer, filter and compressor. You can install them in the desired order.
The new channel line plugin contains three sections. All of them are based on the sound of an analog console of the 1970s and make it possible to determine the routing of the three "elements" in accordance with their ideas.
The EQ section provides a parametric 4-band equalizer with adjustable filter curves that are modeled on the hardware model. In addition, there are filters of high and low frequencies. The first has an additional function of "convexity". This creates a little more pressure and shock in the low frequency range.
Then you will find another compressor, which you can switch between three modes: compressor, leveler and limiter. Settings for attack or release are available depending on the selected mode. In addition to the adjustable threshold, you also get ratio and compensatory gain controls. At the bottom of the graphical interface you will find a clear routing section, the upper area of the plugin is occupied by volume parameters for input and output, as well as a volume level meter.
32C Channel makes a very clear impression based on a few basic features. All of them, of course, relate to sound, which is why it is still in great demand.