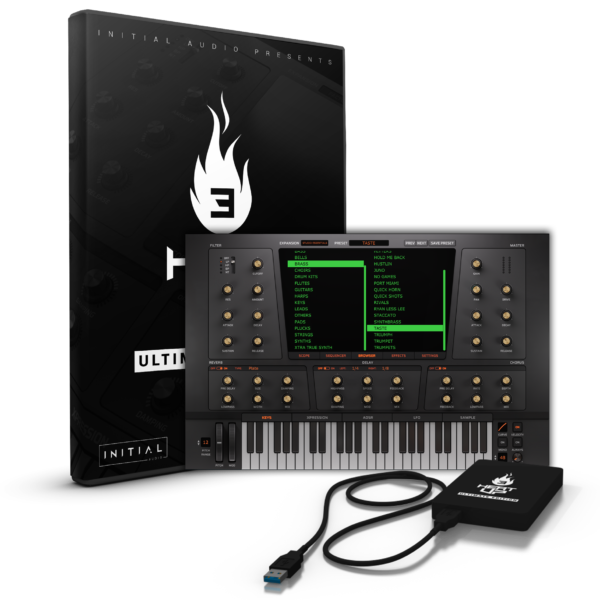 Over 10,000 instruments with multiple samples in categories such as keyboards, brass, bass, hits, pads, leads, organs, arpeggios and sequences, plucks, strings, synths, drum kits, bells, choirs and more! Pretty much every sound you need to create your next song.
incl. 45 Expansion Packs: Flex, Hybrid, Fuego, Maybach Ambition, Raw Lofi, Sauce2, Drip, Saint, Tribute, Drill, Grind, Vibe City, 6ix, Drill2, Vintage Hiphop, VVS, 808 Massacre, 808 Massacre 2, Analog Circuitry, Blackout, EDM Monsters, EDM Trap, Gold, Grime, Hiphop Legends, Kush Lab, Lo Fi, Platinum Factory, RnB Essentials, Street Cinema, Studio Essentials, Trap Empire, Trap or Die, Trap Phantom, Urban Essentials, Urban Supreme, Afro Trap, Vendetta, The North, Weekend, Lo Fi 2, Deep House, Sauce, Westcoast and Purple Slime.
incl. 7 additional drum kits: Swag, New Wave, Blackout, Legacy, Nemesis, Tropical, West Coast Bangers
incl. 480 GB SSD external hard drive
Expression page that makes each instrument more natural and expressive.
12 high quality effects in a reorderable effects rack such as reverb, chorus, compressor, vibrato, tremolo, reverse and more.
A powerful sequencer with tons of presets to inspire your next song. With Humanize mode for added realism.
2 ADSR envelopes and 2 LFOs with waveform editor routable to any parameter.
Crystal clear limiting algorithm to limit the output of Heat Up. Even if the output level exceeds 0 dB (clipping), there will be no distortion.
Atmosphere layer, add extra atmosphere to your instruments with sounds like tape hiss, vinyl sounds, wind, rain and more. Drag and drop your own swatches to use as atmosphere layer.
Release sample. Select a pattern to play on release, either always or randomly. Drag and drop to use your own sample releases.