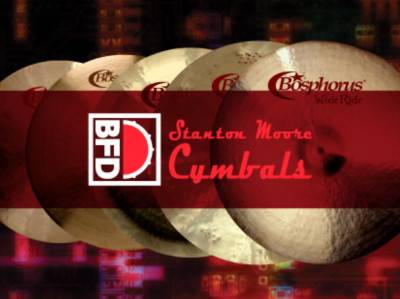 Library for BFD 3.4 drum module (Extension pack for BFD3, BFD Eco and BFD2 with amazing Bosphorus cymbal recordings)
Expansion for BFD3, BFD Eco and BFD2
Stanton Moore signature Bosphorus cymbals
4 crashes, 2 rides and 1 hihat
Crashes feature mallet versions
BFD Stanton Moore Cymbals is an expansion pack for BFD3, BFD Eco and BFD2 with stunning recordings of Bosphorus cymbals.
As well as being a founder member of New Orleans funk band Galactic, Stanton Moore has worked with artists as diverse as Tom Morello, Robert Walter, Corrosion of Conformity and Joss Stone.
BFD Stanton Moore Cymbals brings the entire Bosphorus Stanton Moore signature cymbal range to your sessions – 4 crashes (with additional mallet versions), 2 rides and a hihat – all recorded in pristine detail by guru John Emrich.
An accompanying Groove Pack, Stanton Moore Grooves, is also available. BFD Stanton Moore Cymbals is produced by Cymbal Masters.
This is an updated library from inMusic Brands. The installer is original, with the exception of changing the serial number in one of the files to bypass the library activation later
Install the library
Launch BFD3, go to the Tools – Set up content locations tab
Press the Search Folder button and specify the folder with the installed BFD Stanton Moore Cymbals library