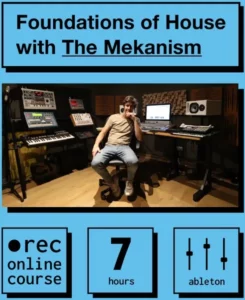 In this 5-day music production course, he'll guide you through his process of creating deep and meaningful house tracks that stand the test of time. Topics covered will include; how to work with samples, creating interesting sounds for your tracks, arrangements, and how to bring it all home with a great mix.
Damien will also shed light on how he traverses so many different styles while still retaining a unique artistic identity – no easy feat in today's dance music landscape. If you love house music, this is the class for you.
A Parisian producer with serious House roots, his releases on labels such as Too Many Rules, Moan Recordings, Robsoul Recordings and Jonk Records have lead him to take his sound all over the globe.
Entertaining fans is something that comes completely naturally and he's performed at some of electronic music's iconic arenas and playgrounds, such as BPM Festival, Ushuaia Ibiza, Rex Club Paris, Burning Man, or Hï Ibiza.
Content
Lesson 1 – Disco/Funky House Part I (01:29:17)
Lesson 2 – Disco/Funky House Part II (01:22:18)
Lesson 3 – Minimal/Tech House Part I (01:34:02)
Lesson 4 – Minimal/Tech House Part II (01:40:22)
Lesson 5 – Mixing (01:57:45)