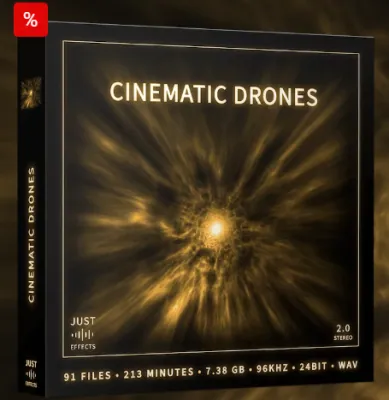 SOUNDS FROM ANOTHER UNIVERSE
CINEMATIC DRONES provides a ready-to-use sound pack of epic atmospheres and soundscapes, from shifting textures to simple drone calls or breathtaking atmospheres. This library is ideal for thrillers, horror films, science fiction, fantasy, documentaries and meditation scenes. Listen to the preview and immerse yourself in the sound world of CINEMATIC DRONES.
MODERN ATMOSPHERE Having
the right sound ambiance is the key to setting the right mood for your production and capturing the audience's attention. Guide the listener on their journey with cutting-edge drones created from source recordings such as urban vibes, water sounds, traffic, synths and more. Drones range from simple to artistic and complex sounds that tell stories themselves.
RICH METADATA
Well-organized sound libraries improve your workflow and save you a lot of time. That's why our sound effects are categorized according to a universal category system and come with rich descriptive metadata.
UCS aims for consistent sound effects categorization, a uniform file naming structure, and easier maintenance of the sound effects library.
Drones:
– 84 Files
– 201 Minutes
Rumble:
– 7 Files
– 12 Minutes