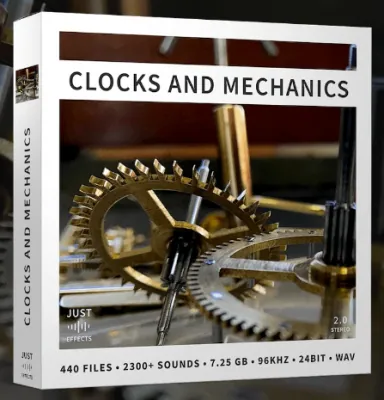 TOOLS FOR MECHANICAL SOUND DESIGN
Clocks and Mechanics is the perfect tool for mechanical design and storytelling through the ticking, chiming and ringing of clocks. Whether you need to create tiny mechanical machines, rattling gadgets, or even large cogwheels like steampunk machines, this library has it all covered.
CLEAR AND DETAILED RECORDS
You'll get floor, wall, table, alarm clock, pocket watch and many small mechanism recordings carefully edited and natural sounding. Included are various chimes, chimes, cyclic ticking at different speeds, detailed clock and gear mechanisms, and rumble, click, click, and spare parts handling. All sounds were recorded in mono and stereo using the LCR recording technique.
ONE OF THE BIGGEST WATCH SOUND LIBRARIES
We spent a lot of time planning this library and recording sessions in the workshops of various watchmakers. The result is a range of 440 sound files with over 2300 individual sounds, making this collection one of the largest clock libraries available on the market.
RICH METADATA
Well-organized sound libraries improve your workflow and save you a lot of time. That's why our sound effects are categorized according to a universal category system and come with rich descriptive metadata.
UCS aims for consistent sound effects categorization, a uniform file naming structure, and easier maintenance of the sound effects library.
Ticking:
– 98 Files
– 98 Sounds
Chimes:
– 102 Files
– 320 Sounds
Mechanics:
– 182 Files
– 1450+ Sounds
Misc:
– 58 Files
– 430+ Sounds