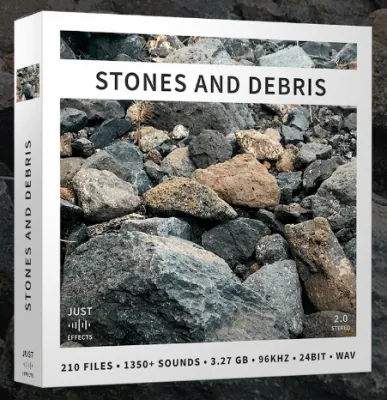 AMAZING SOUND COLLECTION
Stones and Debris game filled with rumble, crackle, fall, roll, rumble, drag and shatter rocks, rocks, bricks, pebbles, gravel, sand and porcelain, offers you a large selection of ultra-realistic sound effects. Use records to flexibly create all types of rock debris, from settling dust and small falling rocks to large rock avalanches or mass destruction.
In addition to the original recordings, this pack includes a number of pre-designed demolition sounds for buildings and walls collapsing, huge cracks, landslides, and debris being dropped. These sounds will help you on the fly when everything is collapsing, the city is under fire, and the houses are collapsing after an explosion or an earthquake.
RECORDED WITH ACOUSTICAL PRECISION
We have made every effort to create a versatile recording tool in stone. In addition to the sessions in our studio, we filmed the sounds of quarries, abandoned buildings, forests and volcanic landscapes to get as many different rocks and rocks as possible. Stones and Debris gives you maximum flexibility to layer, transform or create new sounds and add detailed textures to your projects.
RICH METADATA
Well-organized sound libraries improve your workflow and save you a lot of time. That's why our sound effects are categorized according to a universal category system and come with rich descriptive metadata.
UCS aims for consistent sound effects categorization, a uniform file naming structure, and easier maintenance of the sound effects library.
Rocks:
– 114 Files
– 820+ Sounds
Destruction:
– 37 Files
– 183 Sounds
Dirt & Sand:
– 23 Files
– 125+ Sounds
Ceramics:
– 36 Files
– 220+ Sounds