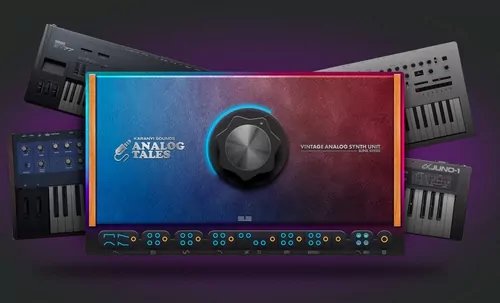 Your music deserves analog sound !
Easily create vintage sounds, modern leads, keyboards, modulated soundscapes, EDM basses and more.
We present Analog Tales, an advanced designer synthesizer with Advanced Smart Random Control for Kontakt!
What is your mood today?
Whether you're creating a new movie soundtrack, a cinematic trailer, or an electronic music track, Analog Tales gives you endless possibilities to create fresh and unique sounds at lightning speed. Unlike regular Kontakt tools, you can decide whether to act completely randomly, or you can dive deep into sound design features and tweak everything manually. But only if you want it.
4 layers of analog paradise
 –
Four synth modules and 1 additional synth layer can be easily mixed with each other, creating a multi-layer engine capable of creating complex sound solutions. Each module includes a wide range of controls and effects such as Prophet type filters, analog and tape delays, room and hall reverbs, and EQs.
And Analog Sub Module
 –
Add warmth and depth to your sounds with the easy-to-use yet powerful Sub Bass module. It comes with three different flavors taken from a vintage Oberheim synth!
Next Level Randomizer
 –
You don't always need hundreds of controls to create exciting new sounds.
But when you do, the Advanced Smart Random Bar comes into play with its unique built-in feature!
Manage over 160 on-screen controls with a single click.
Press and instantly experience inspiring studio-quality sound.
Modern Classics
 –
We sampled four classic and modern synthesizers with a fully analog signal path (studio quality 48kHz/24bit).
which will let you play, mix, tweak, modulate and create your own hybrid monster!
100 factory and performance presets.
Classic and modern 4+1 synth sounds (Alpha Juno, SY77, OBX, Minilogue, PolySix)
Over 160 controls (all MIDI-learnable), including:
Prophet-type low-pass filters.
2 types of equalizers.
2 types of algorithmic reverb.
2 types of vintage delays (bucket crew and tape)
2 types of choir (ensemble and time signature)
8 types of LFO filter and gain modulation.
master limiter and compressors.
Tape Pitch Modulation and more…