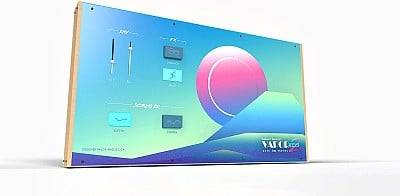 Welcome to Vice City 2021
Remember those shiny, glitchy, vintage sounds and wobbles Synth sounds from TV ads and video games from the 90s?
Or flowing themes from movies like Miami Vice, Beverly Hills, or GTA Vice City?
Well, Vapor Keys 2 instantly takes you back in time: a unique collection for Kontakt 6 of carefully recorded FM and analogue classics. Experience the luxury of the 90s.
The understated charm of a videocassette. Vapor Keys 2 follows the concept of its ancestor (eg DX and Vapor Keys 1): create great sounding patches in seconds! Teleport back thirty years for a super authentic 90s synth sound. Or could we say back to the future? Because this collection of instruments is designed to be fresh and unique for contemporary music, especially hip hop, trap, glitch hop, lo-fi, vaporwave or house music.
We've created easy-to-use patches and sampled four amazing FM, PCM and analog gear to bring you this exciting collection of instruments. Only an all-analog signal path with stellar sampling quality is used: recorded at 96 kHz, 24 bits and converted for Kontakt 6 to 48 kHz.
Vapor Keys 2 contains over 90 presets focused on genres such as trap, glitch hop, lo-fi, vaporwave, retrowave or any other modern music. The preset library is divided into 3 main sections: keys, pads and multi-layer scapes.
90+ Factory presets
Sounds from 5 classic synths (Super JV, Juno 106, JX & 8P & Yamaha DX11)
4 Easy-to-Access FX (2 EQ, Phaser & Chorus)
Recorded in 96kHz, 24bit (converted to 48kHz, 24bit for Kontakt 6)
1.6 GB total size (3.1 GB uncompressed)