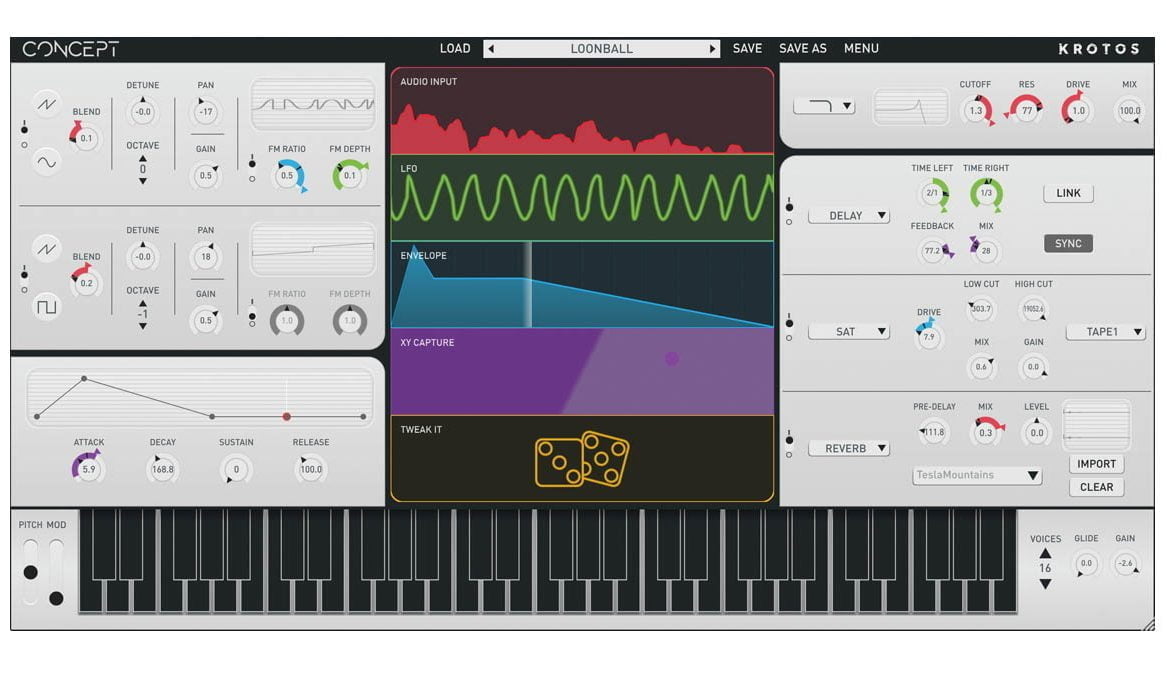 Developer Site: krotosaudio
Format: VSTi, VSTi3, AAX
Bit: 64bit
Tablecloth: Present | RET
System Requirements: 2.4 GHz Intel Dual Core Processor
4 GB of RAM
Windows 7 and above
Description: Krotos Concept is a VST synthesizer in which you can modulate everything at all. Even modulators can be modulated.
Studio Krotos presented its first virtual instrument – synthesizer Krotos Concept. The main feature of the instrument in a strong bias towards modulations is that the synthesizer is based on a powerful modulation engine that changes the signal from any sources in any direction.
At a cursory glance, the Concept looks like another virtual analog subtractive synthesizer. Two oscillators, different waveforms, detuning, frequency modulation settings and depth of change. In place is also ADSR-envelope, multi-mode filter, overdrive, reverberation with the ability to load their own pulses. Actions with the components of the synthesizer are animated by the interface, everything is quite simple and clear.
If you dig a little deeper, it turns out the main feature of the development – a powerful and rich in settings modulation section. In the center of the interface is an impressive modulation section, in which you can modulate almost everything. You can change the sound of oscillators, filters, effects, and other components. You can even modulate the modulators themselves or connect an external source (plug-in or program) as a modulator. In general, space and joy for lovers of synthesis. In action, it looks
like this: Users have access to several types of envelopes, LFO, as well as the "XY Capture" function. The latter is especially interesting: you can draw your own automation curves and sound wave shapes, and the synthesizer will generate sound based on the information entered. Additionally, the Krotos Concept is equipped with a randomization engine that allows not only to introduce chaos in the work of the synthesizer, but also to control the number of changes made.
The output is an interesting instrument with the ability to create unique sounds through modulation.