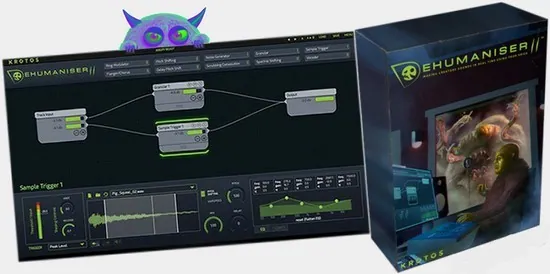 ~ Bring your creations to life ~
Dehumaniser 2 is a powerful vocal processor for creating complex vocal sound effects and dialogue processing.
Create creatures, monsters and robots quickly and easily with Dehumaniser 2's intuitive modular workflow.
Customize and combine effect modules for unlimited creative possibilities, or get started right away with 100 pre-made presets.
Characteristics
Run multiple instances of Dehumaniser 2 on different tracks or buses.
Automate hundreds of settings for unprecedented control over processing and workflow.
Thanks to the modular system based on nodes, you can visually see the audio routing scheme.
Use up to two instances of each node; apply multiple pitch-shifters, granular processors, spectral or convolutional processes, etc. in complex serial or parallel signal transmission paths.
Create systems and settings that can actually be executed.
Our factory library contains over 100 breathtaking presets and 133 high quality animal recordings including tigers, leopards, pigs, parrots and more.
Start designing creatures right away or create your own setups
Trigger sampled sounds based on amplitude, pitch or a range of sound descriptors.
Create dynamic effects that react to the input signal; create processing involved in pitch or amplitude settings for each node.
Choose between peak level, RMS level, energy difference or pitch tracking to bring the signal to life.
Midi control, assign and call.
Gate, equalizers and limiters per module (including input and output).
Custom macro system "boxes" for each node.
An envelope based on pitch or noise content, as well as amplitude, per module in your custom system.
Changelog v1.4.0
VST3 Format : Dehumaniser 2 is now in VST3 format. Previous versions of VST will be completely phased out in the near future. VST3 means we can secure our plugins for the future and take advantage of the extended functionality of VST3.
Scalable UI : In the settings menu, you can now scale the user interface for ease of use on high resolution monitors. The ability to scale the user interface up to 200% will help those who have accessibility issues and ensure they are comfortable using our software in their work.