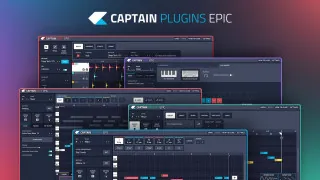 Create superb chords, melodies and bass lines. 5 award-winning plugins for your DAW.
Captain plugins interact with each other. Your melodies and bass lines will always be in harmony with your chords.
Songwriting becomes faster and easier because any changes you make to Captain Chords will be reflected in other plugins.

 As it's retail, You must be online to use it.
The composition of the plugins
CAPTAIN
CHORDS
Write chord
progressions.
CAPTAIN
MELODY
Compose melody
hooks
CAPTAIN
DEEP
Write strong
basslines
CAPTAIN
BEAT
Explore drum
patterns
CAPTAIN
PLAY
Play chords by
pressing one key