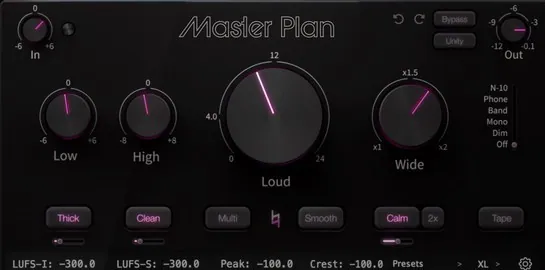 – Clear as crystal, loud as a fool !
Master Plan is a professional audio mastering workflow that lets you get release-ready masters with
simple controls: Crystal clear volume, rich analog saturation,
phase coherent visualization, physical tape emulation, and additional tools to fix and monitor your mix.
– Crystal clear volume circuit: ditch other limiters and compressors.
– Finely tuned saturation inspired by analog technology.
– Serious visual and tone controls for clarity and creativity.
– Fix buttons: soften the mix, de-sharpen, add glue.
– Emulation of a real physical tape for a vintage sheen.
– Listening emulation (midrange speakers, mobile, mono, etc.)