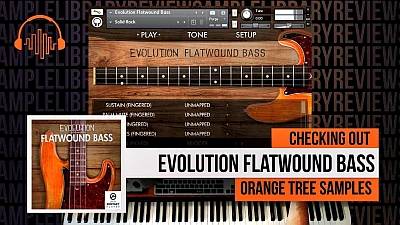 The Evolution Flatwound Bass is a classic P-style electric bass equipped with flatwound strings for a deep rich tone.
We developed the library in partnership with the Rosewood Recording Company, one of the most respected recording studios in Utah. Guy Randle, owner and recording engineer at the Rosewood Recording Company, used analog audio equipment to skillfully shape and emphasize the rich tonal quality of the bass, available as an extended signal provided in addition to the post-recording signal.
For sampling, Guy Randle brought in veteran bassist Rob Honey. As a session player, Rob Honey has appeared on a wide range of CDs, movie soundtracks, and television commercials and programs. He has toured with The Donnie & Marie Show and is the bassist for the band Enoch Train. Rob is also an experienced arranger and songwriter. He was a staff songwriter for the Starstruck Writer Group, Reba McEntire's publishing company. He had songs recorded by Diamond Rio, Faith Hill and many artists in the LDS market. His song "Norma Jean Riley" became a number one hit and Radio & Record Country Song of the Year.
Evolution Flatwound Bass is equipped with our Evolution guitar engine, which gives you a lot of options: a customizable mapping system, tuning the instrument's tone and playability, as well as a powerful set of effects. The library includes many ready-to-use factory presets for classic and modern bass tones that immediately fit right into the mix.
Key Features
 :
– Built-in effects engine for instantly-usable bass tones.
– Adjustable pick position using our proprietary physical modeling technology.
– Powerful mapping system that lets you set how you want to trigger articulations, using conditions such as velocity ranges, MIDI CCs, latching and non-latching keyswitches, and more.
Sampling specifications
 :
– 6.3 GB (compressed to 2.8 GB using the lossless NCW audio format) of 24-bit samples.
– Articulations such as sustains, palm mutes, mutes, and natural harmonics in fingerstyle and picked playing styles as well as slapping, popping, and performance effects like string slaps, slides, and much more.
– MIDI articulations for instant octaves, grace notes, buzz trills, whole-step slides, whole-step hammer-ons, and slides (velocity-based and tempo-synced).
– Legato samples for slides, hammer-ons, and pull-offs.
– The articulations have 3 dynamics, 2 pick directions (when applicable), and 2x round-robin.