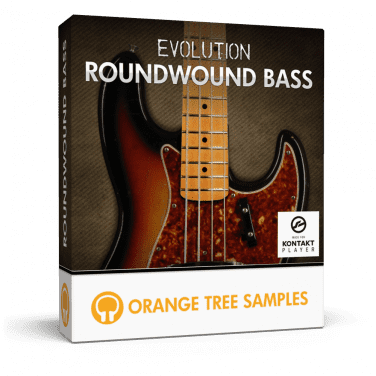 The Evolution Roundwound Bass features a vintage J-style electric bass fitted with roundwound strings for a bright, defined tone that cuts through the mix.
We developed this library in collaboration with the Rosewood Recording Company, one of the most respected recording studios in Utah. Guy Randle, owner and recording engineer at the Rosewood Recording Company, uses a variety of analog audio equipment to record, including a Neotek analog console, tube preamps, vintage compressors, and other classic analog gear. While we've provided a direct bass signal as-is, we've also included a boosted signal that adds bite to the attack of the notes, as well as increasing bass richness and sustain.

Requires KONTAKT 5 or KONTAKT 5 PLAYER version 5.7.3 or later
---
---
The bass samples were performed by seasoned bassist Bill Cushenberry. Originally from Burbank, California, Bill's musical career started early and has taken him around the world and across the US. He has been a mainstay in the live gig and studio scene in the intermountain west for many years, including stints in both the Osmond Brothers and Donny and Marie bands. He plays an array of basses, but this particular bass has been his personal favorite for over forty years.
Evolution Roundwound Bass is outfitted with our Evolution guitar engine which provides you with a wealth of appointments: customizable mapping system, configuration for the instrument's tone and playability, and a robust effects suite. The library includes many factory presets for ready-to-use classic and modern bass tones that fit right into the mix.
Key Features:
– Built-in effects engine for instantly-usable bass tones.
– Adjustable pick position using our proprietary physical modeling technology.
– Powerful mapping system that lets you set how you want to trigger articulations, using conditions such as velocity ranges, MIDI CCs, latching and non-latching keyswitches, and more.
Sampling specifications:
– 21.9 GB (compressed to 9.9 GB using the lossless NCW audio format) of 24-bit samples.
– Articulations such as sustains, palm mutes, mutes, and natural harmonics in fingerstyle and picked playing styles as well as slapping, popping, and performance effects like string slaps, slides, and much more.
– MIDI articulations for instant octaves, grace notes, buzz trills, whole-step slides, whole-step hammer-ons, and slides (velocity-based and tempo-synced).
– Legato samples for slides, hammer-ons, and pull-offs.
– The articulations have 3 dynamics, 2 pick directions (when applicable), and 2x round-robin.