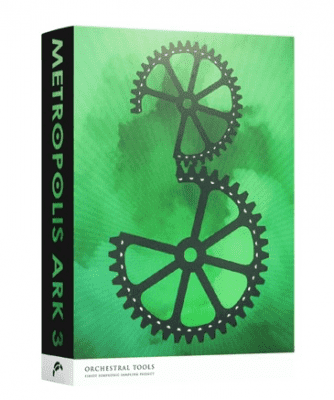 Orchestral Library
METROPOLIS ARK 3
THE BEATING ORCHESTRA
Metropolis Ark 3 – The Beating Orchestra – is the third installation in our epic orchestral series.
You might ask. Is it percussion? Is it an orchestra? It is both but melted and refined into one: A Percussive Orchestra.
Giant machines are quiet compared to those huge taiko ensemble kits and drums of doom. Where other percussion libraries draw the line, we bring in a colossal orchestra which is treated like a percussion instrument. Metropolis Ark 3 is the ultimate orchestral beat machine. It combines an enormous rhythmically driven orchestra with the loudest and beefiest percussion instruments we have ever recorded.
Team up the orchestra and the percussion to program complex and rich-sounding rhythmic patterns and gestures.
To join these two parts properly, the recorded articulations match perfectly.
Thanks to the consistency of articulations, you are able to play all the instruments easily together for instant rhythmic insanity.
CONTENT:
3 trucks full of percussion instruments and 111 musicians were recorded:
District I: The Beating Orchestra
A ready to play set, composed to dive in:
String Orchstra
String Quintett
Woodwind Orchestra
Brass Orchestra
Percussion Orchestra
Taiko Ensembles Menu
Percussion Ensembles
District II: Percussion Ensembles
Taiko Ensembles
Percussion Ensembles
Timpani Ensemble
Ensemble Menus
District III: Solo Percussion
Solo Taikos
Solo Percussion
Percussion Menus
Grand Piano
Solo Menus
Aux Percussion
District IV: Orchestral Sections
High Strings
Low Strings
High Woodwinds
Low Woodwinds
Trumpet Ensemble
Horn Ensemble
Low Brass
HIGHLIGHTS:
8 orchestral sections (High Strings, Low Strings, String Quintet, Trumpet Ens, Horn Ens, Low Brass Ens, Low Woodwinds Ens, High Woodwinds Ens)
Up to 47 articulations per orchestral section.
Taiko Ensembles and Taikos of all kinds and sizes, including a 60 inch monster Taiko, all played by WADOKYO, a renowned Taiko Ensemble well known in Europe.
Extensive set of epic percussion ensembles and single instruments played by Elbtonal Percussion from Hamburg with their lineup of instruments in all ranges. From very low drums, toms, snares, found percussion gongs, cymbals and wooden percussion, to the highest clicks and clacks
Timpani a3 Ensemble
Cluster Staccato and FX Grand Piano
Recorded at the Teldex Scoring Stage in Berlin
Thanks to consistent mic setups and recording environment all Metropolis Ark Collections blend together perfectly.
Based on CAPSULE for Kontakt.
Works with the free Kontakt Player or Kontakt 5.7.1 full
115 GB of samples (58 GB NCW compressed)
24Bit / 48KHz Patches