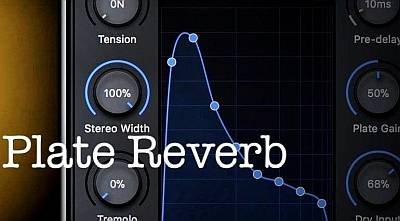 Year / Date of Release : 09.2021
Version : 3.1.3
Developer : Physical Audio
Developer's site : physicalaudio
Format : VST3, AAX
Bit depth : 64bit
Tabletka : present
System requirements : Windows 10 (VST3, AAX)
Description : Dynamic Plate Reverb is a plug-in for effects, which uses a physical model of thin plate vibration to recreate the classic plate reverb sound.
Our innovative algorithm gives you creative control over the tuning of the plate, allowing you to tailor the resonance to your material. Five different plate materials, a preamp and a powerful 8-band EQ provide a huge range of tonal variations that can be applied to vocals, drums or instruments.
Dynamic Plate Reverb does not use impulse responses or delay networks. Instead, we'll start with a mathematical description, the Kirchhoff plate equation. This gives an offset in terms of size, thickness and tension, as well as the properties of the selected material. Using this description, we calculate vibration modes for the system using our unique optimization engine. More information on our original and innovative algorithm design can be found in this white paper that we published at the 2016 Acoustics World Congress.
The physics model allows you to control plate dimensions from 3 x 2 m to 1.5 x 1 m in real time. This, along with five different plate materials, allows the resonance to be tailored to your input material. The 8-band EQ adjusts the weight of the modes in the frequency range for full control over the reverberant sound. The simulated preamp section can be used to add warmth or overdrive to the signal that is fed to the plate.