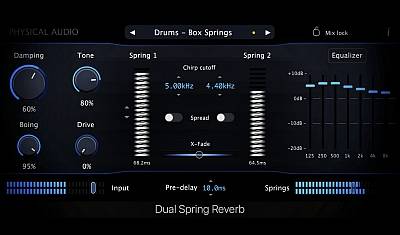 Year / Date of Release : 09.2021
Version : 3.1.3
Developer : Physical Audio
Developer site : physicalaudio
Format : VST3, AAX
Bit depth : 64bit
Tablet : present
System requirements : Windows 10 (VST3, AAX)
Description : Dual Spring Reverb is an effects plugin, which uses a physical model of coil spring vibration to recreate the classic spring reverb sound.
Dual Spring Reverb is the first plug-in to simulate wave propagation in coil springs. The sound engine is completely built on the simulation of internal physical equations. This gives you creative control over the tuning of the springs, allowing you to create your own unique sound. The Dual Spring Reverb is perfect for your guitar, synth or drum tracks, adding a colorful spectrum to your voices.
The Dual Spring Reverb has two separate springs that can be adjusted independently. Both springs have controls for echo time and cutoff frequency, and you can adjust the propagation over time. In addition, there are global controls for boing level, damping and tone, as well as a 7-band EQ. The stereo output is taken from the ends of each spring and they are mixed together using a crossfade. All in all, this allows for a wide range of tones that can be tailored to your individual material.