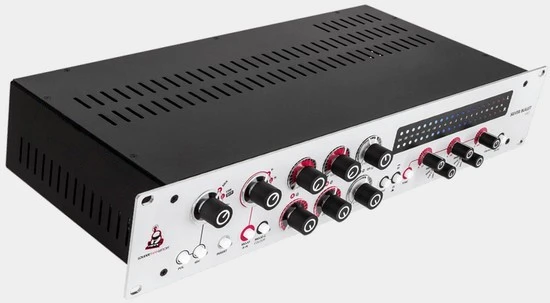 Tone sculptor and cascade analog MOJO box with DYNA REALISM.
Characteristics
Cascading MOJO
:
Use the unique combination of included effects to shape tracks, busses and stereo mixes. Bring your mixes to a new level of character usually found only in studios with massive analog consoles and mountains of additional equipment. Processing two busses, groups or tracks through cascaded combinations of three MOJO digital amplifiers carefully modeled after the original SILVER
A: American console.
N: British console.
C: Custom MOJO / Color Modules.
Tone Shaping :
The Baxandall 3-band EQ in the SILVER BULLET mk2 features a Pultec-inspired low end and a sleek and expensive high end that ranks with the most famous mastering EQs. It uses the beloved AIR circuitry from the original hardware with its own regulator.
Rough with smooth
:
Tighten the low end with the TIGHT filter. The slightly resonant and ribbon-like 25Hz filter is great for mixes, while the 50Hz filter is optimized for tracking individual instruments. Smoothing out the digital high end with a silky VINTAGE mode inspired by the legendary British consoles of the 1970s.
Stereo Image Enhancement
:
ASPECT RATIO musically enhances the width, height and stereo clarity of your mix. It's not one of those cheap, phasic expansion effects that makes you wonder if you messed up the soundstage or the balance.
ASPECT RATIO delivers superior results at the touch of a button. No fiddly setup or guesswork required. LTL took the time to perfect this circuit so you can work on perfecting your mix.
Five custom color modules
:
Like the hardware, this plug-in has an expansion slot for tonal research: Color is a modular platform for building your own analog signal chains. Choose from five different virtual Color modules, including Hitmaker 4000 modules from the original equipment, as well as NEW MOJO modules from LTL friends Unfiltered Audio – exclusive to this version of the plugin. More modules are expected in the future.
Hitmaker 4000
: 1980s console VCA saturation is a standard issue in hardware
Bitmaker 1200
: A downsampled 12-bit version of the Hitmaker 4000 with input filtering and aliasing artifacts, inspired by the legendary drum machine of the late 80s.
Vinyl Saturation
: Creates a warm vinyl saturation based on the Unfiltered Audio Needlepoint plug-in.
Helical Scan
: Includes distortion algorithms inspired by VHS tapes and based on Unfiltered Audio's LO-FI-AF plugin.
VHS AF
: A sequential combination of Vinyl Saturation and Helical Scan distortion algorithms that increase saturation intensity as C-DRV increases and distortion depth as C-MIX increases.
What is an analogue
?
The task of Louder Than Liftoff is to embody the true essence of the analogue. This means including all the variations, idiosyncrasies, imperfections, and even the occasional delightful surprise that we love so much in real hardware. LTL has painstakingly modeled every analog circuit down to the component level with a new patent pending technology: Dyna Realism™.
DYNA REALISM
™:
To explore what it means to be analog, Louder Than Liftoff created Dyna Realism™. This remarkable patented analog realism generator utilizes LTL's innovative virtual parts and serial number systems, meticulously creating unique static and dynamic analog circuit models in a wide range of variations and realism.
Analog Sound with DYNA REALISM
™:
With a simple adjustment, each parameter reveals more intense variation within and between channels. This new technology has breathed life into static simulations, surpassing their inherent limitations and providing hyper-realistic dynamic simulations that feel like circuits come to life.
Go beyond hardware with circuit bending
:
SILVER BULLET mk2 offers two circuit bending options – BEND 1 and BEND 2. Each option shorts the power rails at different points in the signal chain, creating distorted and broken textures. MOJO amps A, N and C exhibit unique behavior depending on the selected CIRCUIT BEND setting.
Peculiarities
Component level DSP model of all Silver Bullet mk2 analog circuitry.
MOJO 'A' and 'N' cascade amplifiers inspired by classic American and British consoles from the 70's.
MOJO C expansion slot with digital Color modules including Hitmaker 4000 and exclusive modules from Unfiltered Audio.
PRE EQ and POST TIGHT operating modes for feeding the signal into the Silver Bullet mk2 signal path.
Proprietary high-resolution 20-segment stereo output meter with RMS and peak indication.
MOJO LED indicators provide visual feedback on signal strength.
A set of tone shaping EQs specifically designed to sweeten the mix and widen the tonal range of individual tracks.
Tight: 12dB/oct high pass filter with two frequency options for mixing and tracking.
Baxandall Tone EQ with AIR, +/-9 dB boost/cut.
Vintage: Softens the high frequency response to mimic vintage British consoles
ASPECT RATIO stereo imaging to increase the width, height and definition of the mix.
Patented DYNA REALISM™ technology creates a spectrum of analog realism through static and dynamic changes throughout the digital model.
The unique serial number creates a separate digital model for each user.
CIRCUIT BEND modes to create "misconnected" broken and distorted textures.
HEARDROOM knob for setting internal operating levels.
OUTPUT TRIM control with +/-10 dB analog modeled gain.
Presets by William Pearson (drBill), Deegan Mack Adams, Benny. Grotto (Mad Oak Studios), Dereck Blackburn (Quiethouse), Darren Rahn.